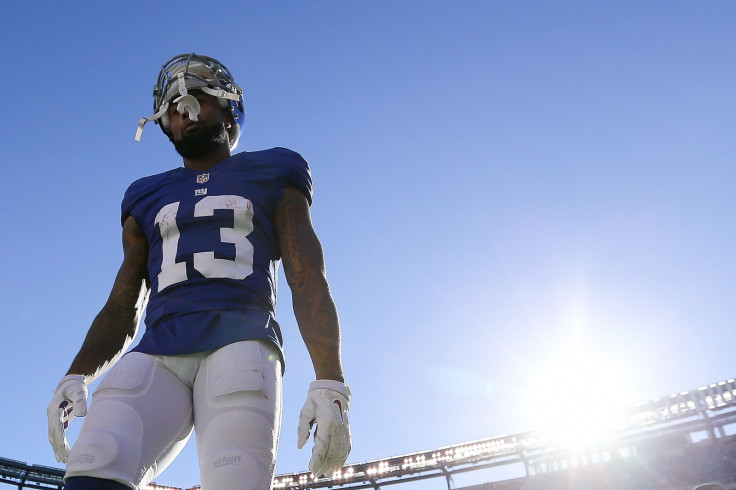 The New York Giants' frustratingly inconsistent 2016 campaign has been intrinsically linked, by the media at least, to the trials and tribulations of one Odell Beckham Jr. The Pro Bowl wideout, arguably the most richly talented and supremely explosive receiver in the NFL today, entered the season in something of a slump by his usual ridiculously high standards.
Relatively well-shackled on the field by boisterous cornerbacks such as Minnesota's Xavier Rhodes, the volatile young superstar became the focal point for the team's struggles due to repeated bouts of seemingly immature behaviour, ranging from a sideline tantrum and an argument with a kicking net to the seventh fine of his two-and-a-half-year professional career for unsportsmanlike conduct. Tempers also inevitably flared during a renewal of hostilities with Washington's Josh Norman.
It could be argued that Beckham's transgressions actually served to shift the focus away from other glaring issues, such as the complete lack of a viable running game, an expensive and disappointing pass rush or the jittery performances of ageing quarterback Eli Manning, although there is no doubt that his actions proved to be an unnecessary distraction.
"Yes, it's a distraction," Edward Valentine, editor of Giants blog Big Blue View, told IBTimes UK. "This is another thing I have written about a lot. Many people disagree with me, because they love the show. I'm old-school. I hate all the 'look at me' stuff athletes do now, and Beckham does more than most."
The Giants head to London's Twickenham Stadium on Sunday (23 October) for an intra-conference showdown against the Los Angeles Rams, having overcome the Baltimore Ravens in a dramatic late finale last weekend. Beckham proved to be the star of the show, giving a timely reminder of his extraordinary ability – defying a costly fumble and a hip pointer injury that had earlier forced his temporary exit from the game – enjoying a career day with eight receptions for 222 yards and two memorable long touchdowns.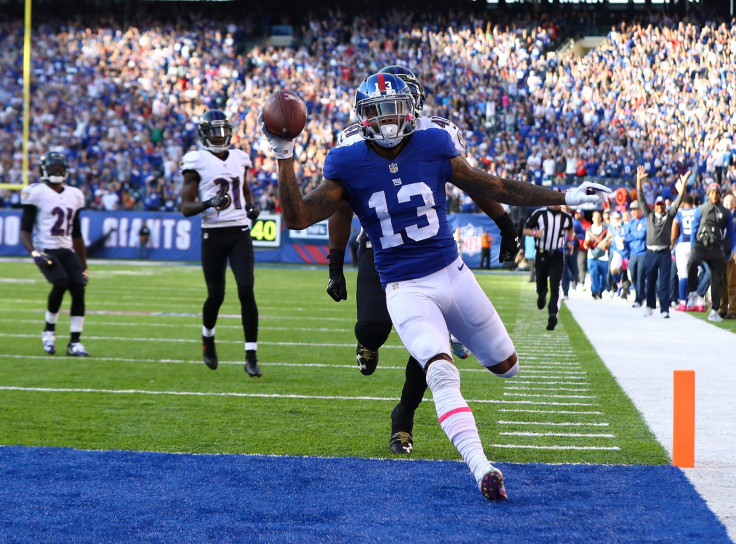 With the Ravens leading 23-20 with just over two minutes left to play, the LSU product's fourth-quarter heroics helped avoid another demoralising defeat and snap a three-game losing streak that had seen his side drop below .500. Valentine subscribes to the view that such a win effectively saved the Giants' season and believes victory over the 3-3 Rams across the Atlantic is imperative if Ben McAdoo's team are to remain afloat in a fiercely competitive NFC East.
The Dallas Cowboys currently top the division, having triumphed in five games behind their dominant offensive line and the stellar play of rookie duo Dak Prescott and Ezekiel Elliot, while defending champions the Washington Redskins have bounced back from an inharmonious start to reel off four successive victories. Carson Wentz and the Philadelphia Eagles also looked a formidable force to be reckoned with before experiencing something of a post-bye week slump.
"Not only do I agree with it, I have written it several times at BBV. Fact is, the Cowboys are 5-1 and really, really good. The Redskins are 4-2, have a game in hand on the Giants and are better than people want to admit. The Eagles aren't pushovers. The Giants have a lot of work to do. They need to win Sunday to stay above water and be realistic contenders."
Some early teething problems for the Giants in 2016 were perhaps to be expected. The franchise underwent a change of head coach earlier this year, with McAdoo upgraded to the top job after initially serving as offensive coordinator for the previous two seasons. The 39-year-old Pennsylvania native, who earned his stripes in coaching at the high school and college levels before working in various roles for the New Orleans Saints, San Francisco 49ers and Green Bay Packers, replaced Tom Coughlin, who stood down in January after 12 years and two Super Bowls.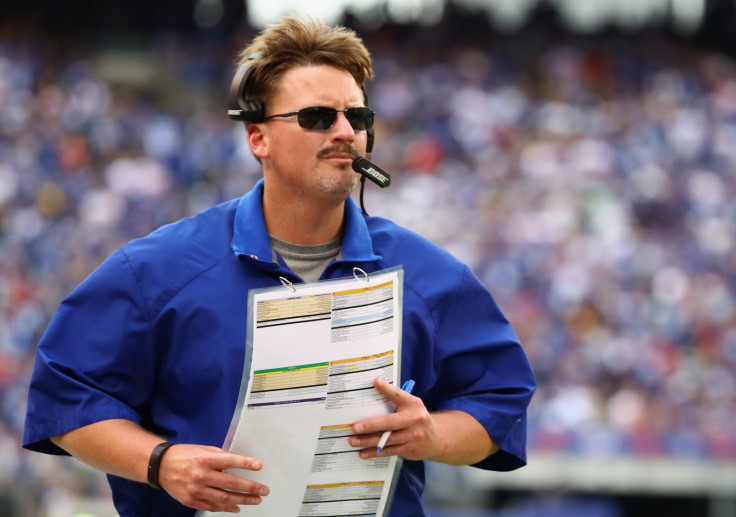 "McAdoo has definitely shown that he's comfortable in the job, that he isn't afraid to change things Coughlin did. I believe McAdoo will be a good head coach, but there have been growing pains as this is his first chance. We'll see how or if he adjusts moving forward."
The Giants actually featured in the NFL's first ever regular season game played outside of the Americas back in 2007, when they outlasted the wretched Miami Dolphins 13-10 in a turnover-strewn encounter at a sodden, muddy Wembley. New York went on to make the Super Bowl that year, although not everyone agrees that these international affairs are a sign of positive progression for the league.
"You aren't going to like this, but I personally absolutely hate the London games," Valentine said. "They cause a ridiculous amount of travel for NFL players, who are already tired and beat up. They take a home game away from season ticket-holders who pay for eight games and get seven. If I had my way the Giants would never participate in these games, nor would there be any of these international games.
"As for the 'feasibility' of a franchise in London I think it's an awful idea. The money-grabbing NFL, though, I'm certain feels differently. It's all about squeezing every dime out of every corner of the globe they possibly can. So, whether it's good for players or competitive balance or any of that stuff – which it's not – I am pretty sure it will eventually happen."