The strike action of up to 10,000 UK prison staff comes amid longstanding concerns over rising levels of violence behind bars and a service that is said by officers to be in "meltdown". The Prison Officers Association (POA) said its members' 24-hour industrial action on Tuesday (15 November 2016) was prompted by the "volatile and dangerous state of prisons", adding that the system had been plagued by "chronic staff shortages and impoverished regimes".
It comes just weeks after the government announced a £1.3bn investment in new prisons over the next five years – said by Justice Secretary Liz Truss to be the biggest overhaul of the system in a generation.
The plans also include an extra 2,500 frontline staff, new powers for governors and a range of other measures designed to restore order, including mandatory drug testing for prisoners.
But critics warn that conditions behind bars are likely to get worse before they get better, saying the government's reforms are "too little, too late".
The problems have been brought into the spotlight in recent weeks following a number of high-profile incidents. This includes the stabbing to death of an inmate, Jamal Mahmoud, at HMP Pentonville in north London in October.
Weeks later, the same prison saw two convicts escape, including an attempted murderer. The same weekend saw officers lose control of HMP Bedford when hundreds of prisoners rioted; a 'mini-riot' erupt at HMP Exeter, during which a member of staff was held hostage; and an incident at HMP Isle of Wight, which saw an inmate cut an officer's throat with a razor blade.
As the government uses a High Court injunction to get illegally striking prison officers back to work, IBTimes UK takes a look at some of the statistics behind why they are taking action.
All figures are from the Ministry of Justice (MoJ) and relate to prisons in England and Wales.
Prison violence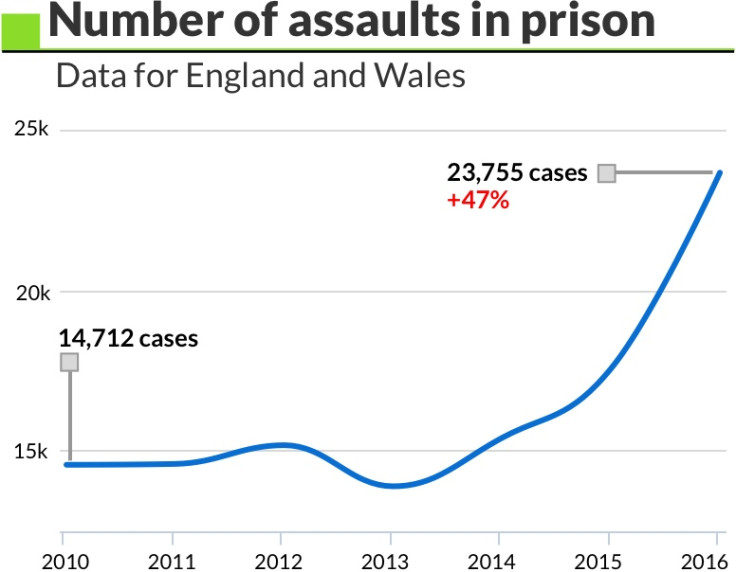 The POA said record levels of violence in prisons have created a "bloodbath" behind bars, with officers fearing they could no longer run prisons safely.
In the year leading up to June, there were 23,775 assaults in prisons – a 62% rise from 2010 – with officers and offenders now seeing an average of 65 assaults behind bars every day. Included in the statistics are an unprecedented number of attacks on prison staff, doubling from about 3,000 to 6,000 between 2010 and 2016.
And despite several years of numbers falling, women's prisons have now seen a 30% rise in assaults over the same period.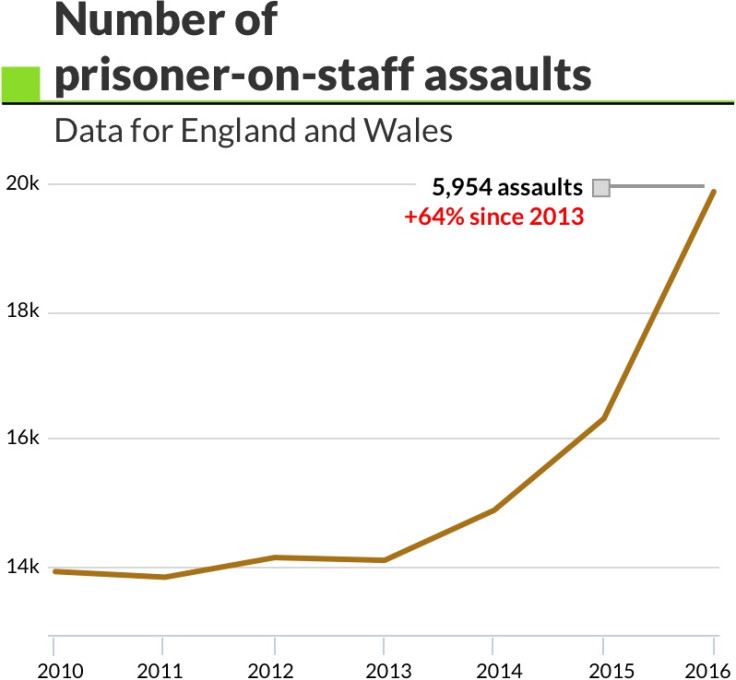 Peter Clarke, chief inspector of prisons, had warned back in July that the rise violence had left too many prisons "unacceptably violent and dangerous places".
He said the disorder had been largely fuelled by the flooding of jails with new psychoactive substances – a problem the prison service has been struggling to control, and which Clarke said was having "a dramatic and destabilising effect" on inmates.
The MoJ later acknowledged cuts to staffing numbers under successive Conservative-led governments and an increase in "gang culture" within prison walls had also contributed to the rising violence.
Self-harm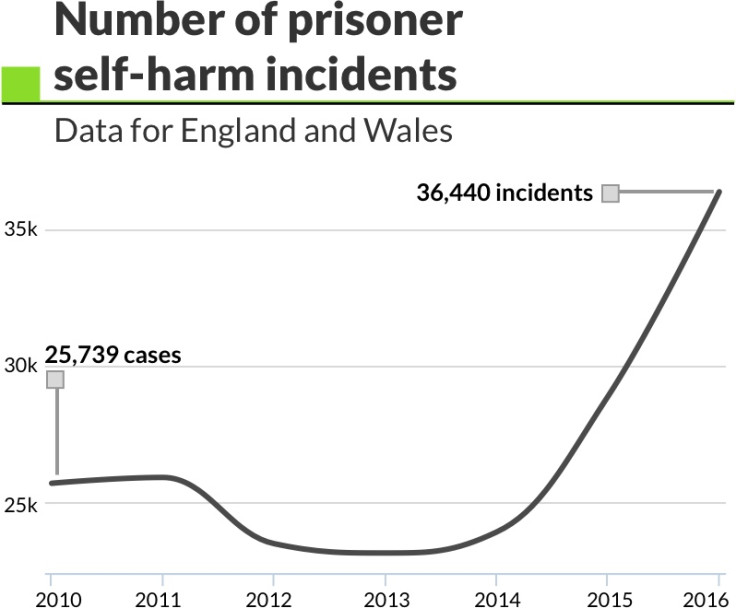 As more and more prisoners fight with officers and among themselves, another epidemic is plaguing the prison system: suicide and self-harm.
The number of incidents of self-harm among inmates rose by 42% between June 2010 and June 2016, from 25,739 to 36,440.
Statistics published by the MoJ also show the number of suicides behind bars rose by 78% between September 2010 and September 2016 to unprecedented levels, from 60 deaths to 107.
Women are more likely to self-harm than men, and to do so more frequently – although the seriousness of such self-harm is greater among men.
Deborah Coles, director of Inquest, the charity that monitors deaths in custody, said: "This year has seen the highest number of self-inflicted deaths in prison on record. This unacceptable death toll reflects the desperate reality of overcrowded, dehumanising and violent prison conditions and the failure of prisons to protect those in their care."
Prison staff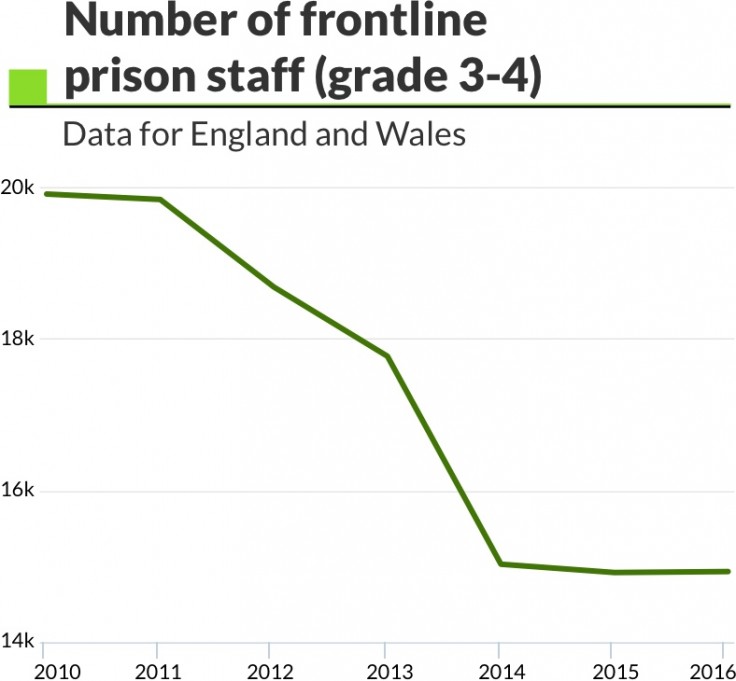 Government cuts have seen the number of frontline prison staff (Grade 3-4) fall by 25% between March 2010 and March 2016 from 19,908 to 14,917.
The POA says this has left the service struggling to keep pace with record numbers of prisoners, with 12 jails now classed as 'red sites', meaning there are not enough staff to operate a standard regime. It added that an estimated 35% of the country's prisons were experiencing some form of staffing problem.
One such prison is HMP Isis in south-east London. It introduced a restricted emergency regime in response to staff shortages three years ago, and as of an inspection in May this year it remains in place. Inspectors found it had left at least a third of the prison's 600 inmates locked in their cells during the working day, with some getting as little as one hour a day out of their cell. Inspectors also found less than a quarter were able to shower every day.
The MoJ acknowledged that the staff cuts, largely overseen by Chris Grayling while justice secretary, had contributed to a subsequent increase in violence. It announced it would recruit 2,100 more prison officers, on top of an extra 400 already earmarked for 10 of the country's most challenging prisons.
But critics, including the POA, say the extra numbers fall short of what's required and would also leave the number of prison staff at a lower number than before 2010. The lack of experienced officers is another problem put forward by staff, with a wave of voluntary redundancies from 2010 seeing about 1,700 officers with an average of 20 years of service leave their jobs.
On top of this, the MoJ faces overcoming recent failures to recruit enough £9-an-hour officers to replace the number leaving due to low morale and feeling burned out.
Prison population
The prison population has reached record levels with figures for October showing more than 85,000 inmates behind bars. This is compared to about 45,000 in 1993.
The country tops the table for prison populations in Western Europe, with the number of prisoners per 100,000 population standing at 149.7 for England and Wales, compared with 118 for France and 81.4 for Germany.
The dramatic rise since the 1990s has been fuelled by successive governments imposing lengthier sentences on criminals, with more people serving longer determinate or indeterminate sentences.
Another contributing factor has been the almost half of all prisoners who go on to reoffend within a year of being released, prompting calls for more focus to be paid on prison reform.
Conservative MP Ken Clarke, a former justice secretary, warned Truss that her prison-reform programme would collapse unless she brought down the prison population.
He told MPs she needed to "take the courageous decision to start addressing some of the sentencing policies of the 1990s and 2000s, which accidentally doubled the prison population in those overcrowded slums and actually make sure our prisons are for serious criminals who need punishment".
Measures mooted last month to allow magistrates' courts to increase their sentencing powers from the current six months to 12 months have led to fears the problem could get even worse, however.
Prison safety – the government's response
Justice Secretary Truss acknowledged earlier this month that the levels of violence and self-harm in our prisons are "totally unacceptable", adding: "Extra officers will make prisons safe and more secure."
A Ministry of Justice spokesman added: "The Justice Secretary has been clear that levels of violence in prisons are unacceptable. We announced a major overhaul of the prison system last week including 2,500 extra frontline prison officers.
"These extra officers and new safety measures will help us crack down on the toxic cocktail of drugs, drones and mobile phones that are flooding our prisons. Our measures will create prisons that are places of safety and reform, giving prisoners the education and skills they need to turn their back on crime for good."