A US Army veteran and her boyfriend have been charged with tying her 'therapy dog' to a tree and shooting it five times in the head while filming the horrific killing.
Marinna Rollins, 23, and Jarren Heng, 25, were arrested in Fayetteville, North Carolina, and have both been charged with cruelty to animals and conspiracy, arrest documents said.
Footage of the brutal killing emerged on Facebook showing the white pit bull tied to a tree in a wooded area.
Rollins, dressed in camouflage trousers and a pink bra, stalks the dog, shooting the canine in the head whilst laughing and giggling at the dying animal, it is alleged.
The adopted dog, named Camboui, but referred to as Cam or Cammy, was buried in a shallow grave, according to the arrest documents.
Heng, who is still enlisted and stationed at Fort Bragg, can allegedly be heard encouraging the shooting in the clip.
At one point Rollins allegedly says, "That's his nerves going" as the animal, her Post-Traumatic Stress Disorder (PTSD) therapy dog, begins to convulse.
The pair, who were allegedly drinking at the time, are also said to have taken photos with the dog in their army uniforms before shooting it.
"They can be heard on the tape laughing and giggling as the dog was being killed," Cumberland County District Attorney Clark Reaves said at the couple's first court appearance according to the Fayetteville Observer. "It was a therapy dog."
Police say Rollins even sent text messages confessing to shooting her dog.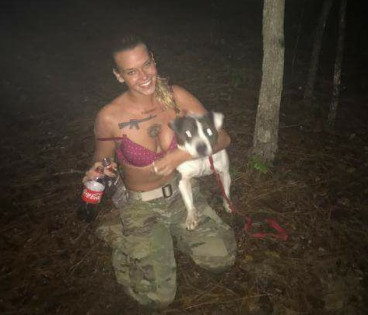 According to the newspaper, she wrote on Facebook on 17 April that Cam would be heading to his new owner soon.
"Sad he has to go, but he will be much happier where he is heading off to," Rollins reportedly said.
"He's going to have such a great new life," Heng replied, adding a smiley-face emoji.
In the video, a female voice can be heard saying to the dog: "It's been real ... I love you, you're my puppy, you're a good puppy".
The dog was reportedly adopted by Rollins' and her former husband in January last year, with Cam certified as an emotional support animal for the veteran's PTSD.
Rollins retired from the army on medical grounds in January this year, it has been reported.