The Royal Bank of Scotland may have surprised the markets with a 98% surge in profits, compared to the same period last year, but it's not time to crack out the champagne just yet.
RBS has a whole host of issues to tackle and even the bank and its boss, Ross McEwan, admitted that that "it still has a lot of work to do and plenty of issues from the past to reckon with," even though the group's pre-tax profit reached £1.64bn (€2bn, $2.8bn) in the first three months of 2014, up from £826m in 2013.
However, it didn't stop investors from flooding the market, as shares surged by nearly 12% in market open to 341.80p.
But it is far too early to celebrate.
RBS Investigations and Lawsuits
Whether we like it or not, as 81% owners of the bank, RBS has to tackle a whole range problems that have no set expiry date nor forecasted impact on its balance sheet.
One of the most prominent headaches RBS will have to face this year is a whopping £4bn lawsuit brought by a shareholder action group, over claims the lender did not fully disclose its true financial condition prior to the government bailout.
It will undoubtedly entail a huge legal bill as RBS intends to fight the action group in court rather than conduct an early settlement out of chambers.
"We understand their issues, but we believe we have strong defences to the claims and that is why we intend to defend these vigorously. That's the reason why these things will be set out in court rather than in an early settlement, we have a good defence on this," said McEwan.
These types of cases can rumble on for years and it is not just about the massive legal bill it will rack up but also the potential scenario that they could 'lose' – meaning a bumper settlement.
RBS is also up against a range of investigations could lead to more settlements or lengthy lawsuits.
The entire British banking industry is under investigation for current or former traders attempting to manipulate currency rates.
On top of that, RBS is also being investigated by the Financial Conduct Authority (FCA) after the regulator announced that it is launching an investigation into Britain's banks' IT systems after a raft of glitches hit millions of customers across the industry.
Clive Adamson, FCA director of supervision, said: "To access and manage our money we depend on the banks' IT systems to be reliable. But IT outages continue, interrupting key banking services."
RBS was forced, last year, to promise another round of compensation payouts after RBS, Natwest and Ulster Bank were hit by an online banking and ATM blackout which left potentially millions unable to pay for goods and services or receive payments in the run-up to Christmas.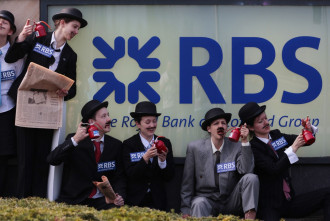 McEwan even said that it was over a decade of lack of investment that led to the IT failures, which can only mean the group will, at least, stump up quite a bit of cash to try and stop such glitches from happening again.
Legacy Cases Rumbling on
New and emerging investigations is not just what RBS has to worry about – it has a whole pots of legacy issues that are still rumbling on.
In February 2013, RBS agreed to pay £390m to settle US and UK charges related to the manipulation of the benchmark lending rate known as Libor, as well as pleading guilty to a criminal charge of wire fraud from a Japanese subsidiary.
However, over a year later, the US Securities and Exchange Commission member Kara Stein slammed her own agency for allowing the RBS and others to break the law by attempting to manipulate some of the world's most important financial markets.
Not only did her comments call attention to their part in the worldwide scandal but it's a shot at the bank that is still, along with others, being investigated by other authorities around the world.
Meanwhile, RBS has spent billions of pounds trying to compensate mis-selling of payment protection insurance (PPI), mortgage products and interest rate swap agreements victims.
So all in all, I would pack away that Bollinger, sit back, and fasten your seatbelts because RBS' journey on the road to recovery is going to be a long and bumpy one.