Jim Gant is owed a "debt of gratitude" by the United States.
Those are the words of former US Army general David Petraeus, who has said Gant, a former Green Beret, possessed "grit, guts and intelligence". But such sentiment is now scarce.
For Gant, described as a key soldier in the fight against the Taliban, has been stripped of his special forces honours, demoted to captain and forced to take an early retirement after 'going native'.
The 46-year-old has gone from being heralded an American hero to being compared to Apocolypse Now's maniacal Colnel Kurtz, played in the film by Marlon Brando, and T.E. Lawrence - known as Lawrence of Arabia - who dressed and fought alongside Arabs.
His life in command of the Afghan village of Mangwel unravelled after it was discovered he smuggled partner Ann Scott Tyson, a war journalist, to his home in March 2011 where they lived together for almost one year under the radar of US army chiefs.
The affair led to the end of Gant's military career but in an interview with ABC News he told the broadcaster that the year he spent in Afghanistan with Tyson was "the most comfortable" he had been in his life.
He has now detailed those 12 months in a new book entitled American Spartan: The Promise, the Mission and the Betrayal of Special Forces Major Jim Gant.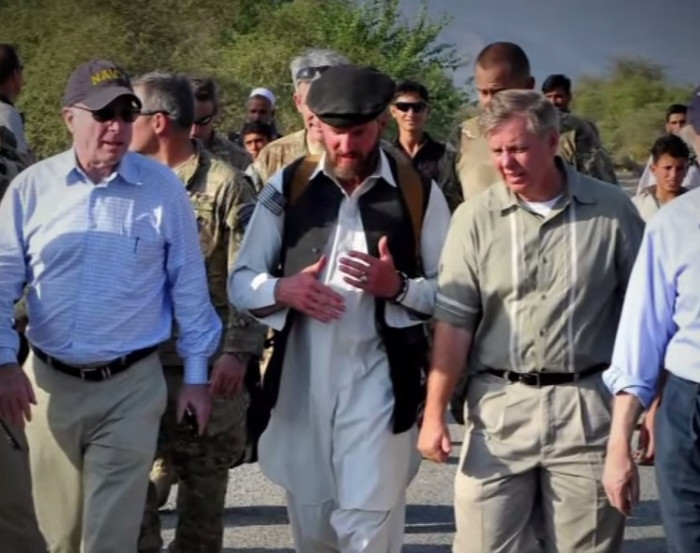 Silver Star
Growing up in Las Cruces, New Mexico, Gant was inspired during his teens to become a Green Beret after reading a fictional story about special forces in Vietnam.
He enlisting in the army after finishing high school and rose to become a Special Forces communications sergeant.
He later served in Afghanistan in 2003 and 2004, and in Iraq during 2006 and 2007.
Gant earned a Silver Star, the US military's third highest military decoration, for valor in 2006 after commanding Iraqi police in a firefight moments after he had been pulled out of a burning Humvee. He deliberately drove the vehicle over two roadside bombs to protect the police.
But the army eventually turned on him after discovering he was playing house with Tyson. In July 2012 the then-commanding general of the Army, Special Operations Command Lieutenant General John Mulholland, gave a damning indictment of his violation, saying they were "inexcusable and brought disrepute and shame to the Special Forces" and had "disgraced you as an officer and seriously compromised your character as a gentleman."
Gant retired immediately and married Tyson in May 2013.