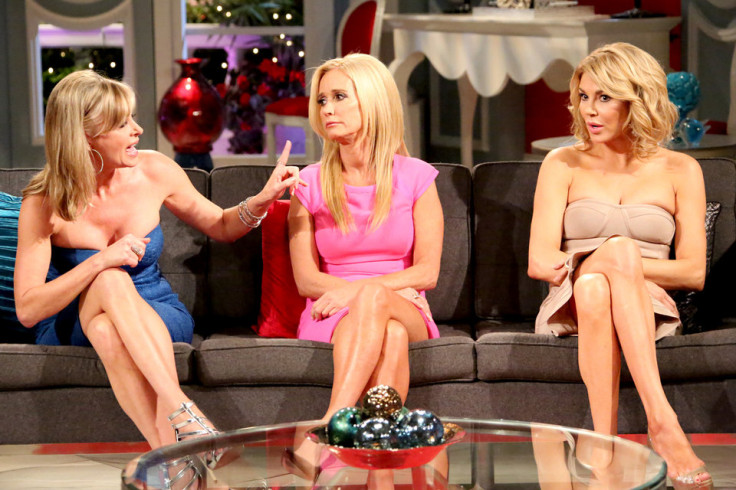 The Real Housewives of Beverly Hills finale airs this Tuesday, 24 March at 9pm ET on Bravo.
In the season 5 finale, fans will get to see the ladies attend an excessive party hosted by old friend Adrienne Maloof. Also, Lisa Vanderpump confronts Brandi about the "slap" in Amsterdam and Kyle Richards gets angry with Lisa Rinna, while Kim demands answers from Brandi.
This season, we have seen the ladies make a trip to Amsterdam, where Lisa Rinna said that she does not believe that Kim Richards is sober. Kyle Richards thought that Brandi Glanville would ruin Kim's life and Lisa Vanderpump is slapped by Glanville, for which Vanderpump will not forgive her any time soon.
However, in a recent interview with E!News, Kyle stated that the show has certainly affected her relationship with her sister Kim. "It's just so difficult to navigate my relationship with my sister in front of the cameras. We've always had a complicated relationship," she explained. "I never imagined it would be like this, ever, when I signed on to do this show."
The reunion episode
The show is just weeks away from the season five reunion, which is shaping up to be the most explosive reunion in the show's history.
The three-part special will unearth all the horrible events from this season including, Kyle Richards and Kim Richards's feud, Brandi Glanville throwing wine and slapping Lisa Vanderpump and Lisa Rinna's breakdown in Amsterdam.
Andy Cohen, who will host the reunion, has called it "super dramatic and emotional" and revealed that a "smoking gun" was revealed at the 11th hour.
Meanwhile, the most controversial housewife of Beverly Hills Brandi Glanville had this to say about the upcoming reunion episode: "I have post traumatic reunion syndrome. I'm telling you, I don't think I was on my best behavior that day," Brandi said.
Digging into the reunion fight, she quipped, "Well let's ask Lisa Rinna, because that's what she did."
She continued, "You want to fight the fight, and I went in there saying 'I'm going to be quiet the whole time. I'm not giving them anything,' and then I lost my temper. And it was craziness. Like crazy. But having said that, I've gotta own what I did and said."
Besides Brandi, Kim Richards and Lisa Rinna reportedly get into another "vicious" physical fight in the RHOBH finale episode, and then there is an "intense" verbal showdown at the reunion.
Click here to watch the first sneak-peek of the reunion episode.