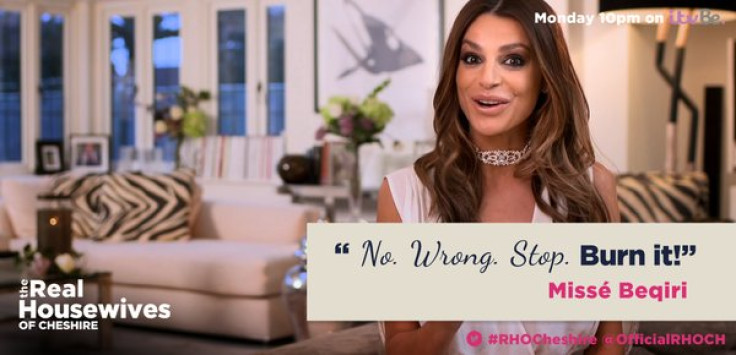 The Real Housewives of Cheshire never fails to simultaneously shock and delight as enlightened viewers are provided with a generous glimpse into the lives of the rich and…almost famous. Our eyes popped out of our skulls when we were presented with a stark naked Ampika Pickston, while a sozzled Dawn Ward is still a walking advertisement for national prohibition.
The episode on 2 May, the fifth episode of the third series, delivered the fun factor as ever before, since our favourite Cheshire WAGs gave us a good reason to tolerate, and even enjoy, Mondays. So take a gander at a few moments that tickled us here at IBTimes UK.
1. Ampika turned up to Leanne's birthday party completely naked
There were plenty of cringeworthy incidents during last night's episode, but eccentric Ampika's entrance into Leanne Brown's 40th birthday party had us cowering on the sofa. Despite Leanne voicing her dismay about 'Pikaboo' attending her bash in an au naturale state – in fear she'd hog the limelight – Ampika decided to rock up starkers anyway. Rolling into the Studio 54 themed party with just multi-coloured spray paint protecting her modesty, and a bizarre chunky pearl necklace falling over her décolletage, the self-assured divorcee looked more freak show than fabulous, but it sure got some Cheshire cats retching a few furballs into their fizzing champagne glasses.
2. Missé won't stop dissing Ampika
We're well aware that models aren't famous for their intellect, but Missé Beqiri either has amnesia or the poor poppet is already running out of storylines for her first ever series. The leggy Swedish model fired shots at poor Ampika at every given opportunity, and if she wasn't dissing her clothes, or lack of them, she was semi-accusing her of being a husband-stealer. To be fair, we wouldn't be doing cartwheels of joy if a spray-painted 40-something woman was sniffing around our man in the nude, but it's doubtful that a 29-year-old self-proclaimed 'supermodel' needs to feel threatened.
3. Leanne should really stop dancing
OK, it's unfair to kill someone's dream, but a bit of tough love is needed every now and then. Former stripper Leanne's love of dancing should really be kept in private now that she's hit the big 4-0. After looking positively sensational in a plunging sheer glittering gown for her special night, the blow-dried blonde lost a little bit of poise when she acted out an out-of-sync dance routine with her daughter Halle, which resembled an S Club 7 performance – had they swigged out of a bottle of Jack Daniels on a roller coaster. Props to Leanne for coming into her own and taking flight from under Wardy's wing, though.
4. Wardy needs to give up the bottle
It's fair to say that Dawn Ward seriously can't handle her drink. As well as leaving her husband, Ashley Ward embarrassed on almost every public outing – the Liz Hurley lookalike starts crouching and bellowing in people's faces, using her witch-like grapplers to express herself. She also tends to throw pals under the bus after guzzling one too many, divulging to Seema that birthday girl Leanne was less than pleased to not be invited to Paris. "Leanne throws her dummy out of the pram and then she's fine," Wardy barked in justification for spilling the beans. Maybe Dawn should be the one keeping her dummy firmly in place...