The Real Housewives of Cheshire just keeps getting better as the latest series gradually unfolds; Leanne Brown has grown a spine, Ampika Pickton's outfits could quite possibly land her in prison one of these days and Missé Beqiri is still winging about Dawn Ward's rude comments about her 'raisin.' We mean beauty spot...
We can't help but feel rather sorry for Tanya and Wardy being cast aside from the girl gang, like a pair of dirty socks, over their dinner party clash with Missé, where they berated her with widespread topics such as facial moles and Mancunian accents. Still, the incident offers a chance for us to get to know the new characters.
Forever Unique fashion designer Seema Malhotra, who IBTimes UK interviewed last week, and pint-sized Stacey Forsey – wife of Sports Direct boss David Forsey – are total sweethearts and enjoyed a bonding session. Stacey tried on Seema's fashion designs, whilst Swedish model Missé, the 29-year-old 'supermodel' wife to goalkeeper Anders Lindegaard, is prepared to ruffle up a few overpriced feathers.
Missé, who appears seven-feet tall compared to the others, stands her ground when smoothing things over with Wardy over an apologetic glass of champers. She then pitches up to Ampika's club event in a show-stopping white lace dress, displaying her three-mile long legs, whilst a scantily-clad Ampika looks like 'Pocahontas on acid', in Tanya's words. Way to show up the host…
As we first predicted in episode one, cracks have started to appear in the once dynamic duo Leanne and Dawn's previously-invincible kinship. Whilst Leanne, a former stripper, was throwing some questionable shapes on the dancefloor one minute, she stomped over to Dawn in a flurry and brought up the whole 'raisin' insult she threw at Missé in episode one. It's seriously not a 'currant' affair any more, ladies.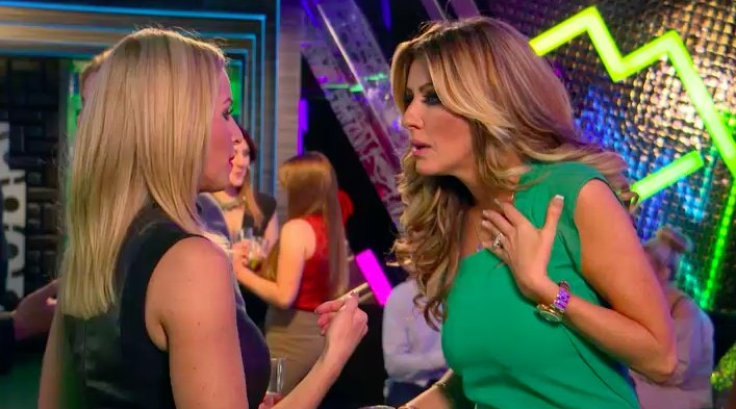 We're pretty impressed at how Leanne has grown into her own woman with her own voice, however, instead of being Wardy's puppet, and seems to be enjoying the company of the new housewives. Tanya and Dawn have subsequently found themselves with 'no mates' and tried to kill time by forming a girl band, treating viewers to a less than refined sing-song where Dawn referred to herself as 'a drag queen'. Your words, Wardy, not ours…
However, there were a few moving moments amidst the false-lash fluttering chaos as redhead Lauren Simon confided in BFF Ampika about her crumbling marriage to her businessman hubby, Paul. As 'Pikaboo' (Ampika's nickname, if she already didn't seem crazy enough), confessed her unhappiness, both housewives began weeping. As viewers, we found ourselves in dire need of Tanya's teethy facial expressions to perk up the mood.
The Real Housewives of Cheshire continues on ITVBe next Monday (25 April) at 9pm.