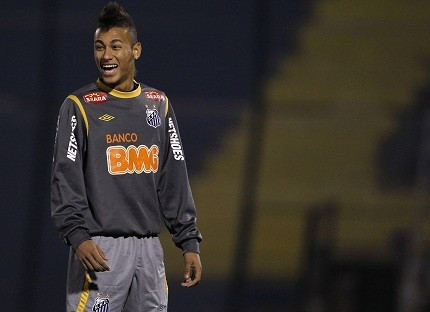 All the latest transfer rumours from Real Madrid. The Spanish giants have been linked with Barcelona midfielder Thiago Alcantara after the players father revealed that he had held talks with Real Madrid. Real Madrid are set to miss out on Neymar this summer after Santos revealed they have rejected two bids from Madrid and Lassana Diarra could be ready to make a switch to Turkey after Tottenham rejected rumours that Gareth Bale could be sold to Madrid in 2013.
The father of Barcelona midfielder Thiago Alcantara has said that he met with Real Madrid over the possible transfer of his son. It was believed that the player had committed his future to Barcelona after being linked with a £15m switch to Manchester United in July but it now seems that Alcantara could still leave the Nou Camp.
"I spoke with [then Madrid general director] Jorge Valdano at that time. He wanted to know how the situation was; if Barcelona wanted him," Mazinho told La Sexta.
Thiago's stock has risen considerably over the last two months, and though the player has aired his love for the club, his father has refused to rule out a future transfer. The midfielder was linked with a move to the Bernabeu earlier in the summer but both parties played down the possibility of a transfer. Speculation is now rife that Jose Mourinho will test Pep Guardiola's resolve in keeping the young midfielder.
Real Madrid is set to miss out on Real Madrid wonder kid Neymar. There has been bad blood between Santos and Real Madrid this summer with Santos President Luis Alvaro Ribeiro saying he would report Madrid to FIFA. Santos has now confirmed that Neymar is not for sale and the Brazilian club will not be bullied by Real Madrid.
"We have no interest in selling him and we will communicate this formally. It is the same proposal, we had the deadline to respond until the end of the month, and I had already indicated that the answer would be 'no' and I will make it formal on Monday. They offered two choices: take him now or later, but we do not want it," Ribeiro is quoted as saying by Lancenet.com.
Neymar has attracted the attention of both Barcelona and Chelsea this summer but it was believed he would make the move to the Spanish capital. Jose Mourinho is said to be very keen to sign the player this summer to prevent a bidding war between his club and Barcelona next summer. Neymar has said that he will play in the Club World Championships in December and only Europe.
Real Madrid is set to sell France midfielder Lassana Diarra. It was reported yesterday that Jose Mourinho offered the midfielder to Tottenham in exchange for a deal where the Spanish side would sign Gareth Bale in 2013. However it has been reported that Tottenham have rejected such a deal out of hand and Diarra is now set to make a move to Galatasaray. The Turkish side have offered Real Madrid £8m for the midfielder but it was thought that Diarra had rejected the chance to move. However, Madrid will now look to push through a transfer with the Turkish giants and move Diarra off their books.