Rebekah Brooks Describes 'Car Crash' Love Life Involving Andy Coulson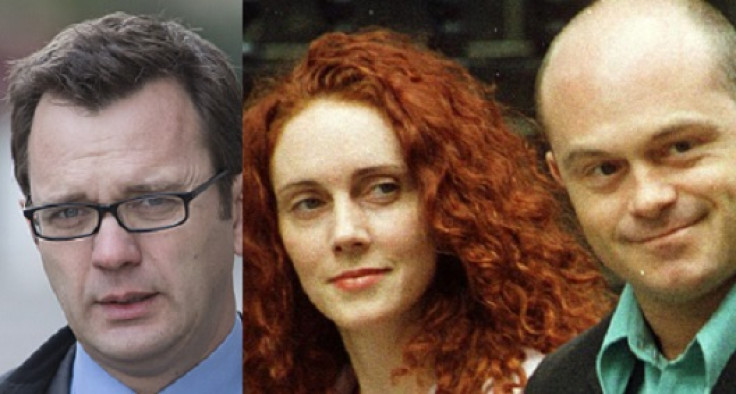 Rebekah Brooks fought back the tears as she spoke of her "car crash" personal life, including her affair with ex-News of the World deputy editor Andy Coulson.
The former News International chief executive denied her affair with Coulson lasted six years, but instead occurred over three separate time periods between 1998 and 2006.
Brooks, 45, also spoke of the difficulties she had with her first husband, actor Ross Kemp, with court proceedings halting at one point as Brooks appeared to lose her composure when asked about the possibility of having children with the former Eastenders star.
Brooks was giving evidence on the second day of her defence at the Old Bailey. She is one of seven defendants, including Coulson, accused of phone hacking and misconduct-related charges.
She told the court how she was "incredibly close" to Coulson and first began a physical relationship with him in 1998, after she had temporarily split from Kemp, who was then her boyfriend.
Brooks told the court she got back together with Kemp later that year and eventually married in 2001. She said the pair began to experience difficulties due to Brooks working longer hours when she became editor of The Sun, as a result of the Iraq invasion in 2003.
Brooks then began to well up after she was asked about the possibility of having children with Kemp. After taking a short break in proceedings to regather her composure, Brooks described how the fertility treatment she underwent in 2001 in order to have children with Kemp was put on hold because of the war.
"It was a tough year for us. Basically, life was put on hold for Iraq."
The pair eventually split up in 2005 but Brooks insists it was amicable.
Brooks also talked about the periods where she became "intimate" with Coulson, who took over editing the NotW when Brooks left for the Sun.
She revealed that she rekindled her relationship with David Cameron's former spin doctor between 2003 and 2005 while her marriage was going through difficulties. She said there was a "further brief period of intimacy" in 2006.
"Having an affair is, by its very nature, quite disruptive," she told the court. "This added complexity to a very good friendship.
"My personal life was a bit of a car crash for many years. It's probably very easy to blame work but the hours were very long and hard and you got thrown together in an industry like that. It was wrong and it shouldn't have happened but things did."
Brooks denies conspiring to hack phones, conspiring to commit misconduct in public office, and conspiring to cover up evidence to pervert the course of justice.
She has already been cleared of one count of misconduct.
The trial continues.
© Copyright IBTimes 2023. All rights reserved.