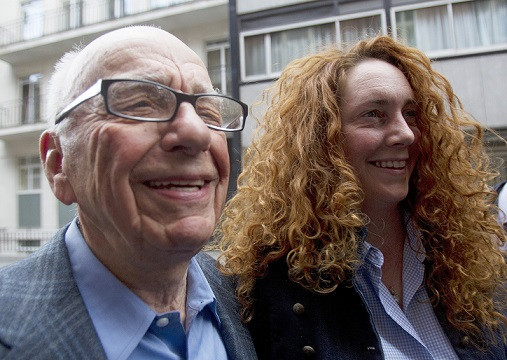 Rupert Murdoch urged Rebekah Brooks not to create publicity for herself and to "keep her head down" during her time at the News of the World, a court has heard.
Giving evidence at the phone hacking trial for the first time at the Old Bailey, Brooks told the court about the times she would have to speak to the media mogul when she would stand in as editor of the News International-owned paper.
Brooks, 45, said Murdoch offered her some "kind advice" while she was deputy editor at the NotW, including advising her not to make public appearances on TV and radio like some of the other editors at the papers he owned.
Following yesterday's evidence about former prime minister Tony Blair's advice to Mrs Brooks on how to protect the Murdoch family from the phone hacking scandal, she described the first time she met Blair.
Brooks claimed the meeting occurred after her then-boyfriend, former EastEnders actor Ross Kemp, a "card carrying" Labour supporter, had been invited to introduce one of his speeches on education.
"That's where I met for the first time the New Labour team, Tony Blair and his wife Cherie, Alastair Campbell and his partner Fiona Millar, Peter Mandelson – the original New Labour crew," she said.
The ex-News International chief executive also denied all knowledge of phone hacking at the NotW and claimed she was unaware of the activities of Glenn Mulcaire, the private investigator hired by the paper who was convicted of phone hacking in 2007.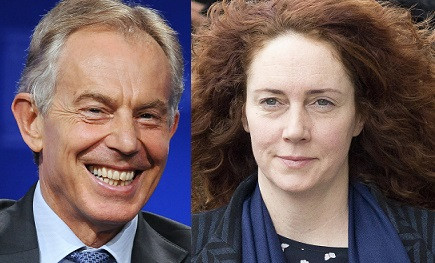 'Don't Go on Radio 4'
Brooks described to the court one of her first encounters with Murdoch. She said: "I remember him coming into my office for the first time when I was deputy editor and he sat down and said 'It's a big challenge at a young age', kind advice. 'You've got a long career ahead, take your time, learn on the job'.
"He was particularly keen for me to take a very strict path in any kind of publicity.
"He wasn't very fond of editors ... going on Radio Four and spouting forth about their opinions, he didn't like that. The advice was keep your head down. Don't court publicity."
Murdoch would telephone the editors of the Sunday Times and News of the World on a Saturday night from wherever he was in the world, Brooks said.
"He was obsessed by news, even if there was a breaking story coming out that didn't feature heavily in your paper," she added. "You might have a few things he might be interested in in the paper."
Brooks is one of seven defendants accused of phone hacking and misconduct related charges. She has already been cleared of one count relating to a photograph of Prince William in a bikini which appeared in The Sun in 2006.
The jury were earlier told not to judge Brooks based on the fact she worked with the 82-year-old, or that she worked on newspapers with certain political allegiances.
Jonathan Laidlaw, QC, said: "She is not being tried because she was the editor of a tabloid newspaper.
"Neither is she on trial for having worked for Rupert Murdoch's companies or having worked herself up, literally, from the bottom through that organisation.
"She is not being tried for News International's strategies, its policies, its influences and its corporate views. Neither is Brooks on trial for any political views she may hold, neither is she to be judged for the support of the newspapers she edited for one political party at one time or another."
When asked about the illegal activities of Mulcaire, Brooks told the court his name was never in front of her.
"We did have private investigators working on the News of the World, not just the News of the World, across Fleet Street, on lots of stories. Law firms and solicitors used them more than journalists," she said.
When Laidlaw asked if involvement in phone hacking ever drew her attention, Brooks replied: "No, not at all."
All seven defendants deny the charges against them.
The trial continues.