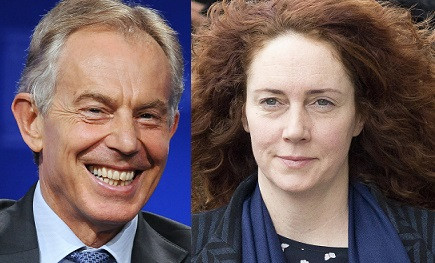 Former prime minister Tony Blair advised Rebekah Brooks on how to protect the Murdoch family from the phone hacking scandal following the closure of the News of the World, a court has heard.
The jury in the phone hacking trial was shown an email between Brooks and James Murdoch in which Blair allegedly offered to be an "unofficial adviser" to the Murdochs and the former NotW editor.
Brooks said Blair advised her to launch a "Hutton-style report" – a reference to an inquiry into the death of Iraq weapons inspector David Kelly - which would clear James Murdoch of any wrongdoing in the wake of the fallout.
The email said Blair gave Brooks the advice during an hour-long phone conversation the pair had on on 11 July 2011, the day after the News International-owned NotW paper closed and six days before she was arrested on phone hacking accusations.
Blair advised Brooks that she should not seek any "rash short-term solutions as they only give you long-term headaches". He added she needs to "tough up" and take sleeping pills to help her cope.
The email was read out at the Old Bailey during the conclusion of the prosecution's case. The email from Brooks to the then-executive chairman of News International James Murdoch contained five key points allegedly from Blair:
Blair's office was forced to issue a statement in response to the court proceedings, which admitted Blair had counselled Brooks but said it was merely "informal advice".
The statement said: "This was Mr Blair simply giving informal advice over the phone.
"He made it absolutely clear to Ms Brooks that, though he knew nothing personally about the facts of the case, in a situation as serious as this it was essential to have a fully transparent and independent process to get to the bottom of what had happened.
"That inquiry should be led by credible people, get all the facts out there and that if anything wrong were found there should be immediate action taken and the changes to the organisation made so that they could not happen again."
Murdoch's flagship tabloid The Sun famously switched alliances to Blair's new Labour in the run-up to the 1997 general election.
Brooks is one of several people, including former NotW editor and government spin doctor Andy Coulson, on trial for phone hacking charges.
All defendants deny the charges against them.
The trial continues.