Just a week after she was praised for opening up about her mental health problems on I'm A Celebrity, Rebekah Vardy is now courting controversy for being a "bully".
Viewers of the ITV reality show have also been calling for her to be fired from her role as the ambassador of YoungMinds, a UK charity advocating the well-being and mental health of young people.
Vardy, who is the latest campmate to be evicted from the show, has been accused of ganging up with Amir Khan and Jamie Lomas to harass radio presenter Iain Lee, who suffers from anxiety and depression.
On the show, Lomas and Vardy can be seen incessantly acussing Lee of scheming to win this year's I'm A Celebrity.
"Look at you, you secret game planner. Buzzing that you're not going out tomorrow, you've got a game plan you have," Vardy taunts Lee.
"You're definitely playing a game," insisted Lomas agreeing with the 35-year-old wife of Leicester City striker Jamie Vardy.
Vardy continued: "Watch this one, not only does he nick strawberries but he's also got a game plan."
To which Lomas replied: "Yeah he was itching to go yesterday and now he's the happiest man on earth. Come on don't tell me you are not playing a game, I was on to you three days ago."
Lee was later seen confiding in Khan saying: "That strawberry stuff had better be funny for the hassle that I am getting."
In a previous episode, Lee and Khan had caught flak from campmates and viewers alike for stealing their Dingo Dollar Challenge prize— strawberries and cream. While they had both been partners-in-crime, it was Lee who bore the brunt of criticism from fellow participants.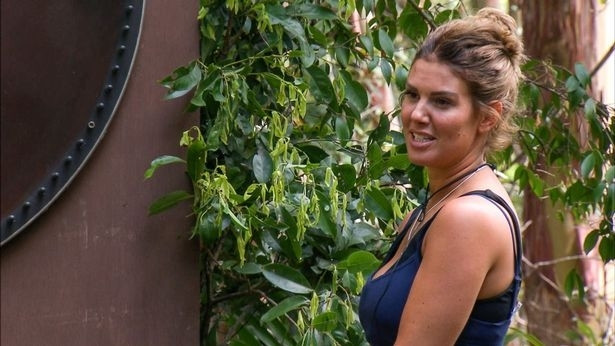 "He is going in there to win and he is playing the sympathy card and he isolates himself from the rest of the camp and then as soon as the cameras are on he wants the limelight," Vardy later said about Lee in her post-exit interview with Joe Swash.
Fans on Twitter were upset about her comments as one wrote: "@YoungMindsUK You'd better kick Rebekah Vardy to the kerb. She's nothing but a bully and has no idea about mental health,"
Another said: "I don't like this bullying of Iain. The guy suffers from depression. They're a bunch of d***s. Becky game-played her way into marriage for pity's sake! #ImACeleb"
A third tweeted: "I can't say I like Iain but bullying is not ok! Even if he has a 'game plan' it's a game show! Exclusion is a particularly nasty type of bullying! You'll only talk yourself out and keep him in there. Brits don't like a bully."
In a previous episode Vardy, and Lee had spoken about their difficult past, with the WAG admitting to attempting suicide when she was just 14 years old and discussing how she suffered post-natal depression.
Vardy's friend spoke to the Mirror about how she was abused by a family friend. "He didn't rape her. But he would grab her boobs. He tried to shove his hands down her trousers if he could. She started drinking, getting into fights at school. She became the black sheep of the family. Then she tried to take an overdose," the friend revealed.
Vardy said that she was kicked out of the house when she tried telling her Mum about the abuse.
At the time, Twitter rose in support of Vardy. One viewer said: "Everyone says @RebekahVardy is a bitch! I'm sorry but she's brutally honest. Says it how it is and gives credit when it's due. I prefer that to fakeness! #ImACeleb"
Speaking to Good Morning Britain today (5 December), Vardy defended her comments on Lee saying: "I was under pressure when I made that comment and it was slightly taken out of context."