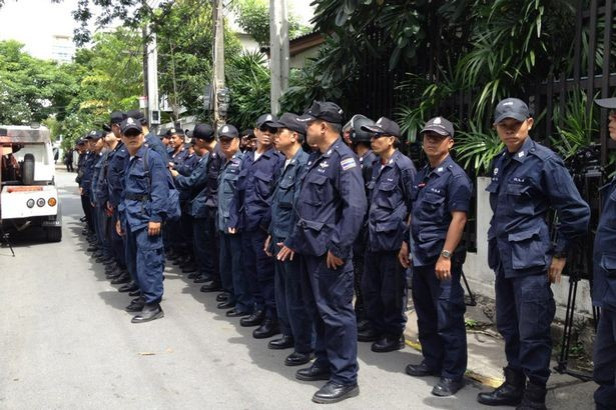 A grandson of the creator of the Red Bull energy drink has been arrested in Thailand after being suspected of killing a policeman in a hit-and-run incident in Bangkok.
Vorayuth Yoovidhya, grandson of the late Red Bull creator Chaleo Yoovidhaya, was taken into questioning on suspicion of hitting a policeman in the early hours and dragging his body nearly 200 metres down a neighbouring street.
The victim, Sgt. Maj. Wichean Glanprasert, 47, was killed whilst out on a pre-dawn motorcycle patrol.
Police arrested Yoovidhya, 27, after tracing oil streaks down several streets to his family's gated estate in a wealthy neighbourhood of Bangkok.
He was facing charges of causing death by reckless driving and escaping an arrest by police but was released on a 500,000 baht (£10,000) bail.
The city's top police official, Lt. Gen. Comronwit Toopgrajank, said he took charge of the investigation after a lower-ranking policeman initially tried to cover up the crime by turning in a bogus suspect.
Toopgrajank's subsequent investigation of the late Red Bull founder's compound led to the discovery of a charcoal-coloured Ferrari with a dented front bumper - believed to be the one involved in the accident.
Toopgrajank said he suspended the police officer who attempted to subvert the investigation.
He told reporters: "A policeman is dead. I can't let this stand. If I let this case get away, I'd rather quit.
"I don't care how powerful they are. If I can't get the actual man in this case, I will resign."
The Red Bull creator Chaleo Yoovidhaya was ranked 205th on the Forbes list of the world's wealthiest people in 2012, with a net worth of more than £3bn.
He died in March and left his heirs a wide range of businesses, including shares in the popular energy drink, as well as hospitals and real estate.
The family also co-owns a company which is currently the sole authorised importer of Ferrari cars in Thailand.