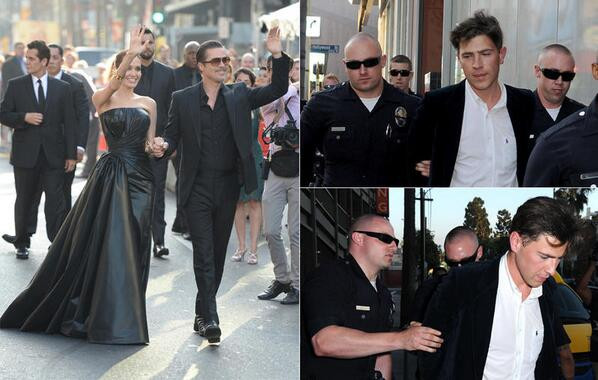 Ukrainian TV personality Vitalii Sediuk will face charges of battery and assault after he allegedly punched Brad Pitt in the face.
Pitt was accompanying his wife Angelina Jolie at the Los Angeles red carpet premiere of her new film Maleficent, when the 25-year-old prankster reportedlyleapt over a fence and hit the actor.
Pitt appeared to be unharmed and continued to sign autographs after the assault.
According to the city prosecutor's office Sediuk faces four counts, including unlawful activity and interference at a theatrical event.
Sediuk is notorious for his red carpet invasions and most recently evaded the tight security at the Cannes film festival to crawl under America Ferrera's dress, as she posed with her co-star's at the premiere of How To Train Your Dragon 2.
He previously caused embarrassment to Bradley Cooper and Leonardo DiCaprio by hurling himself at their feet with his face in their crotch and hugging their legs.
He stormed on to the Grammy's stage as Adele was collecting an award and was once slapped by Will Smith as he attempted to kiss the actor at a premiere in Moscow.
The red carpet pest has previously claimed that his adoration of the stars is misunderstood.
Following his arrest over his latest prank, Sediuk told the media that he wanted people to know he is "not a crazy guy — I just think differently."
While his antics appear to be a desperate bid for infamy, Sediuk may now have to face serious consequences for his red carpet stunts.
The Ukranian TV personality was held in police custody, pending payment of $20,000 (£12,000) bail.