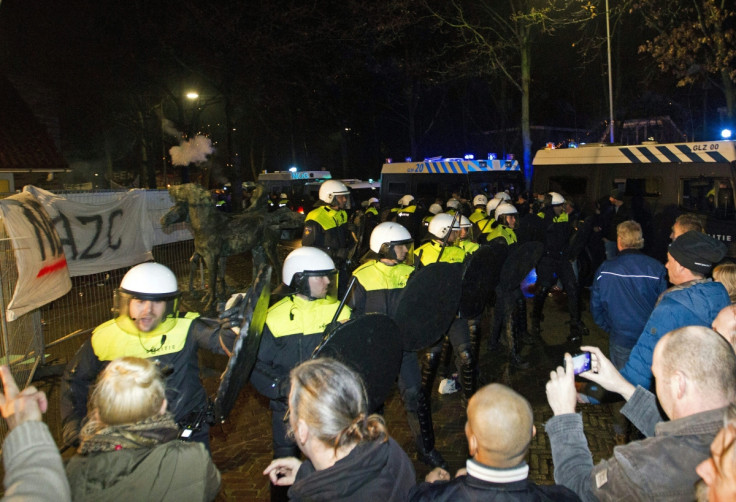 Dutch police fired warning shots to disperse rioters protesting against plans to build a centre for asylum-seekers, as EU leaders are due to address the migrant crisis in Brussels. Some 2,000 demonstrators gathered outside a council meeting in the town of Geldermalsen, 70km (45 miles) southeast of Amsterdam, called to discuss the construction of a shelter for 1,500 would-be-refugees.
The rally turned violent as rowdy protesters smashed windows, tore down fences and hurled fireworks, stones and bottles at security forces. Authorities said they arrested 14 people involved in the disorder that left two policemen and several demonstrators lightly injured, Telegraaf newspaper reported.
Videos of the riot were posted on social media by journalists at the scene.
Geldermalsen mayor Miranda de Vries tweeted she was shocked, adding that everybody at the council meeting was safe. "I am through and through sad," she wrote.
The meeting was abandoned. State Secretary for Security and Justice Klaas Dijkhoff condemned the violence, saying people had a right to demonstrate but in this case protesters had crossed a line. "The line is crossed when you barge in yelling and rioting," he told Dutch TV.
The incident came as EU leaders are due to meet in Brussels for the last European Council meeting of the year. Talks are expected to focus heavily on ways to better control the massive migratory influx to the continent, the stepping up of external borders security and enhancing cooperation among states.
"The protection of our external borders is not intended to scare off those who flee wars or persecution. Europe is a community of freedom and will always provide shelter for those in danger," European Council President Donald Tusk wrote in a summit invitation.
Almost one million people have crossed to Europe, mainly from Libya and Turkey, so far this year, according to the International Organisation for Migration (IOM). More than 3,600 have died at sea.
In the latest incident, Greek authorities say two migrants drowned and 83 people were rescued as their wooden boat sank in the Aegean Sea off the island of Lesbos.