The Greek coastguard has recovered four more bodies off the island of Lesbos, raising the death toll from the large wooden boat's shipwreck to seven, as charity workers warn that wave of refugees to Europe is far from over despite the upcoming winter weather. The overcrowded fishing boat, carrying around 300 people, capsized overnight when the upper deck collapsed on the crowds below. According to some reports, a second boat accidentally crashed into the vessel causing it to sink.
The Greek coastguard, working in cooperation with Frontex, the European border monitoring agency and two helicopters, rescued 242 people. The bodies of a man and two children, aged one and four, were also pulled out of the water. On Thursday (29 October), the bodies of two children and two adults were discovered, and 34 people are still feared missing as the weather conditions get worse.
An official told The New York Times that 15 people have been found dead in five incidents over the past 24 hours. That includes 10 children, and the death toll is expected to rise.
Over the summer, the Aegean Sea island of Lesbos, which lies less than six miles from the Turkish coast, became the main route for thousands of asylum-seekers from the Middle East and Africa hoping to reach safety in the European Union (EU). Unexpectedly, the arrivals have not scaled down in the past few weeks, despite the worsening weather, rough seas and upcoming wintery conditions.
"We've made the assumption that the numbers of refugees would go down in winter, but that assumption has been proven wrong," Kirk Day, the International Rescue Committee's Greece team leader told IBTimes UK. "Last week, we've seen the biggest day of arrivals with over 8,000 coming in one day on Greek islands. Despite the fact that the summer has been incredibly challenging, I believe that we're in the darkest days now."
The United Nations (UN) said on Tuesday 20 October that over half-a-million refugees and migrants have arrived by sea in Greece this year. About 27,500 people remained in transit on Greek islands near Turkey, with many fearing that European borders will close again once they reach northern Europe.
"We have reached another dramatic milestone, with the arrival yesterday (Monday 19 October) of 8,000 people, bringing the total to 502,500. Obviously we knew this was coming, but we do see a spike in arrivals in Greece," UN refugee agency spokeswoman Melissa Fleming said. Last week, about 25 refugees died in the Aegean Sea, many of them children, according to the IOM.
Failure of hotspot registration
Aid workers also claim that European measures adopted to solve the migrant crisis, such as the inauguration of "hotspot" registration centres in Greece, have had little results, if not even worsened the situation. Medecins Sans Frontieres (MSF) said last week that it treated 1,000 people for hypothermia symptoms after they were left stranded outside registration centres in the rain − some for at least three days − without shelter, food, water or warm clothes.
"We have witnessed a lot of pregnant women and children queuing for several days in the mud and pouring rain, without any protection from the elements, soaked to the skin and often wearing nothing warmer than a T-shirt," said Yves Wailly, MSF's project coordinator on Lesbos. "Some people can no longer stand up because their feet are so swollen after being wet for days at a time."
With chaos and disinformation, refugees are forced to stand in the queue as police don't allow them to get medical care. "This is completely inhumane," she said. Months of repeated alarms have produced little effect on those responsible for ameliorating the situation on the island. Food distributions stopped three weeks ago and containers that could host up to 600 people remain locked, forcing people to sleep outside on the ground.
In Moria camp, which became a registration centre under the EU, people have scarce access to food, water or hygiene facilities, according to MSF." If this hotspot model, which shows no regard for the health or dignity of vulnerable people, is what European leaders consider their first step, then we are extremely worried about the rest of the journey," MSF's Aurelie Ponthieu said.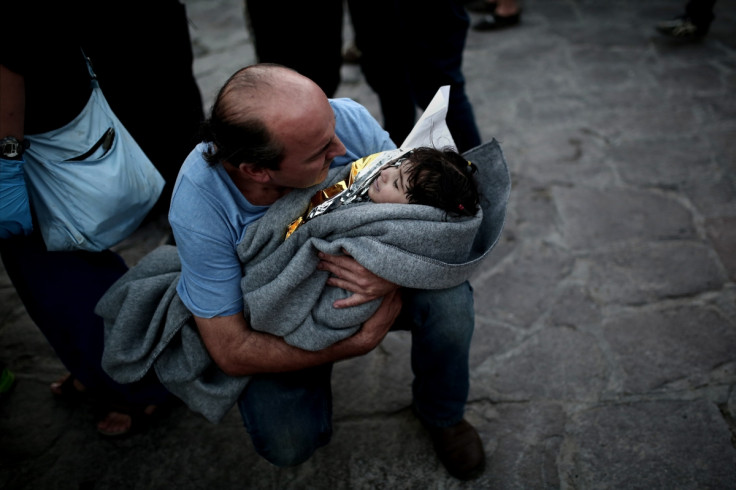 Sources familiar with the situation told IBTimes UK that Turkey has increased checkpoints along its coast to try to stop smuggler boats from leaving for Greece, but that has pushed an additional number of refugees to leave at nights, which especially in winter months can be extremely dangerous.
The EU has pledged additional financial support for Greece, which has promised to host up to 50,000 migrants by the end of the year. That is part of a programme to distribute 160,000 asylum seekers from Italy and Greece to other participating EU countries. However, Kirk Day said the plan "is not feasible" as reception conditions in the Aegean Sea islands are not adequate to receive thousands of refugees and migrants.
Herculean effort
"Europe has no effective plan to deal with this crisis," Day said. "EU member states are putting tremendous pressure on Greece to stem the flow of migrants and it's a delicate position for Athens to resist this pressure. Also, all the European countries are putting pressure on Turkey, which is already housing 2 million refugees, based on the assumption that there were will be fewer of them making the cross. They were wrong."
The 242 survivors of the Lesbos shipwreck were offered assistance by volunteers and doctors in makeshift shelters. Many of them were children and women suffering from shock or receiving first aid in a chapel at the port. Eighteen children were taken to the hospital, three in serious condition, local authorities said. The charity Starfish Foundation, which has volunteers in Molyvos, where the survivors were taken to, issued an appeal for sleeping bags, socks, underwear, rain jackets, men's trousers, tracksuit bottoms, clothes for children aged 10-14 and winter scarves, gloves and hats.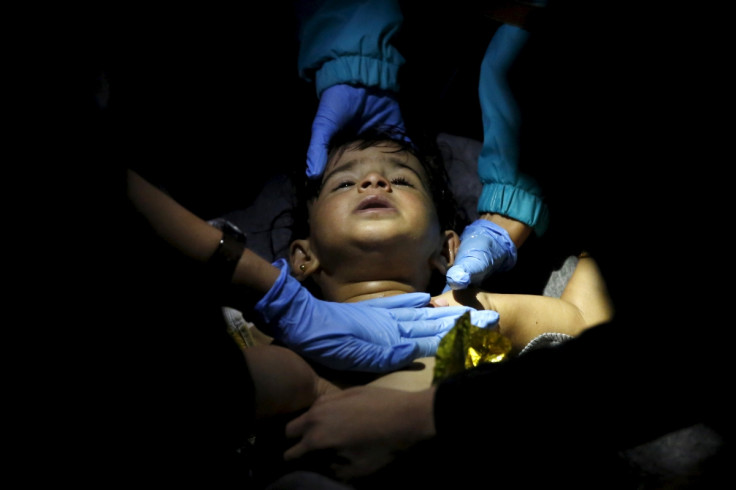 A British volunteer, Tracey Myers, said on Facebook: "Today is a day of death. Members of this team have worked relentlessly to give CPR, support grieving people and have watched life pass from children's eyes.
"A woman lost her baby and her husband, another woman saw her three or four-year-old child die and her other child rushed to hospital."
Kirk Day praised the "Herculean effort" of volunteers and charity workers but warned that hundreds of thousands are heading to Greece in the forthcoming weeks. "There's no reason to believe that numbers will go down, with deteriorating situation in Syria after the Russia intervention," he said.
"Europe has continuously underestimated the magnitude of this crisis. Unless Europe comes together on a solution to humanely treat refugees, we'll see death on a higher scale in the next months."