Salafists in Germany, followers of a fundamentalist and sometimes violent interpretation of Islam which gave birth to the Islamic State, are targeting refugees fleeing the Middle East and Asia for radicalisation.
As more than 4,000 refugees and migrants arrive in the south-east of Europe every day and with 105,000 arriving in Germany in August alone, fears have been raised that the flow of people from Isis-held Iraq, Libya and Syria may pose a security risk.
In Germany the country's fundamental Islamists have identified those arriving from the embattled nations to the west as ripe for radicalisation. Bavaria-based preacher Pierre Vogel, a proponent of strict Sharia law but who does not advocate violence, has published guidelines in a YouTube video on how his followers should best capitalise on the arriving refugees. He suggests they should form teams to help refugees build shelters and visit them often.
Vogel instructs his fellow Salafists to "bring gifts" and try to gain access to accommodation where refugees are staying. If they are refused they are told to engage with refugees in their local mosques. The Salafists are also concerned that refugees might convert to Christianity.
The German newspaper Die Welt has quoted a member of the country's secret service who has been observing the Salafists as saying: "Our study shows that Salafis have tried in individual cases, to establish contact with refugees on the pretext of alleged offers of help."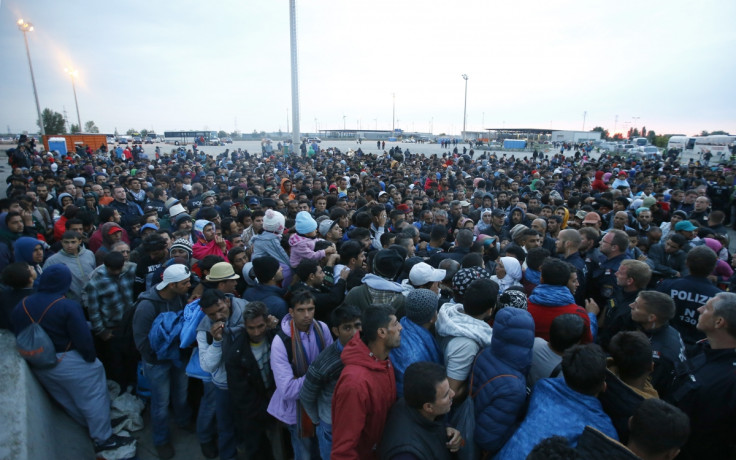 In other parts of the country, Salafists have engaged in similar activities as refugees arrive in North Rhine-Westphalia and Hamburg. Secular groups in Germany have claimed the goal of the extremist group is to hamper the integration of refugees into German society.
Professor Anthony Glees, the director of the Centre for Security and Intelligence Studies at Buckingham University, told IBTimes UK that he thought Germany had radically underestimated the impact the arrival of so many refugees could have when it said it would process 800,000 asylum seekers this year.
"There is a possibility that perfectly straightforward migrants from Syria could be radicalised in Europe. Every which way, the security aspects of Germany's emotional response to the crisis spells a real security nightmare for all of Europe," he said.
"There is a possibility that perfectly straightforward migrants from Syria could be radicalised in Europe"
- Professor Anthony Glees
"This is a problem because of the dereliction of duty on the part of the Germans. The Germans have prevented the Hungarians from doing what the law, Schengen and the Dublin accord says has to be done. People have to be screened in the first Schengen European Union country they get to," he added.
Germany announced last week that it would no longer follow the Dublin accord which stipulated refugees and asylum seekers had to be processed in the first EU member state they arrived in. The move was precipitated in part by the unfair burden posed to "front line" nations such as Italy, Greece and Hungary where refugees were arriving in unprecedented numbers.
The prospect of refugees being radicalised in Europe follows ambiguous reports that French police may have identified an Islamic State operative living in a migrant camp in Calais.
Security analysis and government ministers across Europe have claimed the Islamic State could exploit refugee routes in attempts to carry out terrorist attacks.