If you're a meat lover, embracing National Vegetarian Week may seem like a cruel challenge, but the world of plant-based cookery is an exciting and flavour-rich territory that has way more going for it than the classic meat and two veg.
IBTimes UK spoke to chef Anna Barnett on her current adventure which has seen her ploughing through the meat-free cookery world and creating some incredible recipes for her blog The Reluctant Vegetarian. They should make you stop missing meat almost immediately.
Following a career in fashion at UK brand House of Holland, Anna Barnett found her true calling in the world of food with her first recipe blog Get in my Gob – leading to the launch of beautiful new site www.annabarnettcooks.com.
Her recent foray in vegetarian cooking is great inspiration for anyone looking to give up meat occasionally, or just try something new. "Since meeting my boyfriend I have had to re-think my way of cooking to cater for his vegetarianism," Barnett tells us "which is how The Reluctant Vegetarian came about. As a meat eater it's important for me to knock-up meals that are tasty enough to make me not miss meat, while also come up with meals that are well balanced and hearty enough to make sure no one goes hungry."
"Restricting or cutting out your intake of meat not only makes for a healthier diet but also means you'll be more than doing your bit for the environment. I also find that I cook healthier seasonal meals as a result of it."
Here are Anna's top five recipes for a meat-free masterpiece: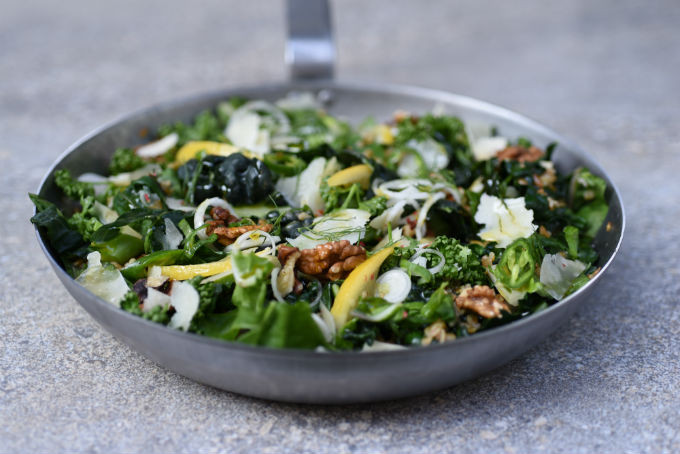 ALL THE GREENS, PRESERVED LEMONS, CHILLI & BUCKWHEAT
This one-pan wonder may resemble a subtle and well-kept garden but trust me it's all about the flavours...If you love chilli as much as I do here's your opportunity to pack in as much as possible among the fresh crisp chard, cavolo nero and zestiness of the preserved lemons. The walnuts are a welcome, creamy addition that help bring in some much needed protein and help balance this meal. The collection of fresh herbs also brings this dish alive, combining fennel tops & parsley alongside a generous helping of the richest Parmesan.
PREPARATION TIME: 10 MINUTES
COOKING TIME: 25 MINUTES
FEEDS: 4
INSTRUCTIONS
First soak your buckwheat in boiling water. Leave for one minute then drain and lightly toast in a good glug of oil before adding your water (don't add salt until cooked as it makes them tough). Cook for 15 or so minutes then leave to rest for 10 minutes. Once the buckwheat is cooked take a medium sized saucepan and add a small glug of rapeseed oil and your chard and cavolo nero along with a generous sprinkle of seasoning. Cook over a medium heat for 2-3 minutes or until they begin to wilt. Next add in the buckwheat and combine, adding further seasoning if necessary (have a try before you do). Next sprinkle over the preserved lemon, spring onion, parsley, chilli, fennel tops, Parmesan and, finally, the walnuts. Finish with a little extra extra-virgin rapeseed oil and pink or black pepper serving immediately.
---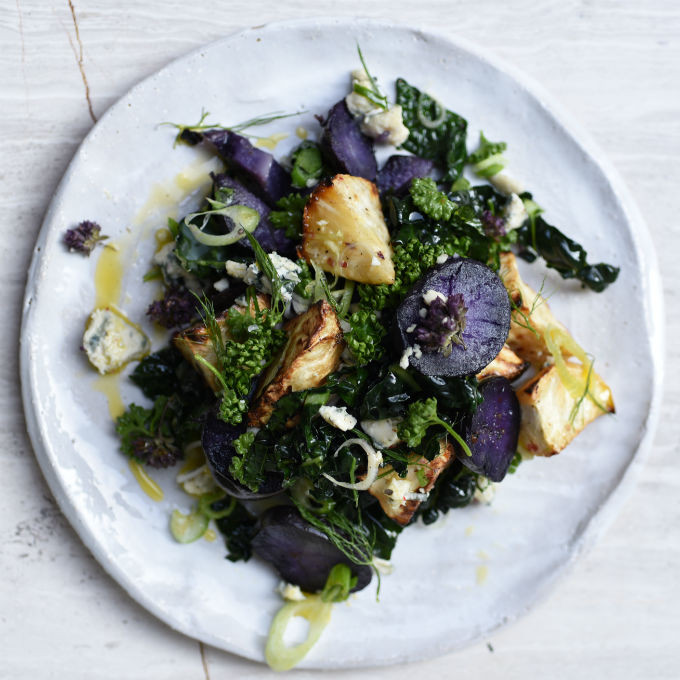 HERITAGE POTATO, ROASTED CELERIAC, GORGONZOLA & CAVOLO NERO SPRING MIX
This vibrant winter salad has to be an all-time favourite. Packed full of rich, earthy flavours which combines beautifully with the distinct creamy tones of the Gorgonzola. You won't be able to get enough of this so make sure you're generous with your portions.
PREPARATION TIME: 5-10 MINUTES
COOKING TIME: 20-25 MINUTES
FEEDS: 4-6
INSTRUCTIONS
Preheat the oven to 200 degrees celsius. Prepare the celeriac, peel and chop into chunks as noted then drizzle with rapeseed oil, coating all sides of the celeriac evenly. Sprinkle with sea salt flakes and roast for 20-25 minutes or until it's begins to turn golden. Cut the heritage potatoes into just under 1cm thick slices and add these to a separate baking tray again drizzling with oil, seasoning with salt then roast for around 20 minutes or until they begin soften and crispen.
Once your celeriac and potatoes are nearly done, take a large saucepan and heat a generous glug of rapeseed oil over a medium heat. Crush and chop your garlic then add to your pan followed by the prepared cavolo nero. Using tongs or a spatula, move the greens and garlic around so it all cooks evenly, cooking it for just a minute or two so it's softens but retains crunch.
Prepare all remaining ingredients as noted and combine in a large serving dish. Check the seasoning and adjust if necessary then let everyone dig in and help themselves.
---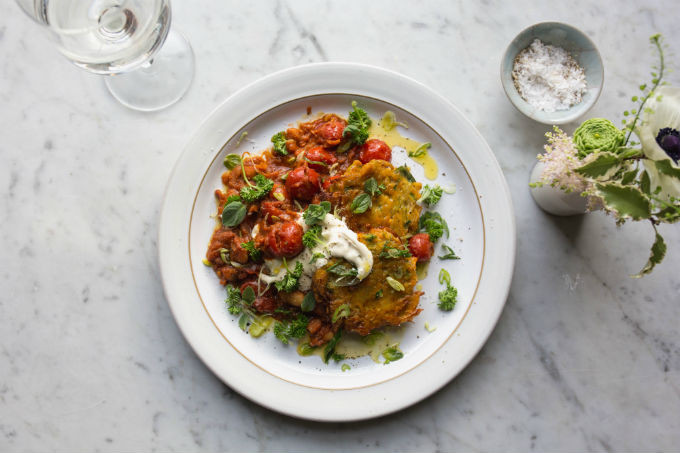 SWEET POTATO & LEEK PANCAKES WITH CRÈME FRAÎCHE, SPRING ONIONS & BOSTON STYLE BAKED BEANS
If you do one thing this week, try these sweet potato pancakes. Served with Boston-style baked beans and a generous spoonful of crème fraiche.
PREPARATION TIME: 10-15 MINUTES
COOKING TIME: 7-10 MINUTES
FEEDS: 4
INSTRUCTIONS
Begin by melting your butter in a frying pan, add in the shredded leeks and cook over a medium to heat until soft, this should take 4-5 minutes.
Next combine the grated sweet potatoes, spring onions, lemon zest, seasoning and cooked leeks. Once you've thoroughly combined all ingredients add in the whisked eggs, again mixing well so all ingredients are now evenly coated in egg. Next gradually add in the flour until you have a relatively thick and sticky consistency.
Heat the vegetable oil in a large frying pan. You ideally want between 1-2cm depth of oil. Test that it's hot enough by adding a small dollop of mixture, this should fizz and float to the top. It's also good at this point to check the seasoning of your cooked mixture and adjust if necessary.
When you're happy with your sweet potato and leek mixture, begin to gently spoon generous tablespoonfuls into the hot oil leaving a little room for them to spread out either side. Cook for around 2-3 minutes on each side or until golden.
Once cooked gently transfer to paper towel to absorb some of the oil. You can keep these warm in the oven if you're cooking these up in batches.
For the Boston-style baked beans, add a glug of olive oil to a pan and allow to heat before adding in the chopped onions and garlic. Sweat for several minutes then add in the beans, tinned tomatoes, stock, smoked paprika, seasoning and molasses and cook over a medium heat for 20-25 minutes–finally add in the fresh oregano.
Serve the sweet potato pancakes with a generous dollop of Boston-style baked beans and another generous dollop of crème fraîche, with a little extra freshly ground black pepper.
---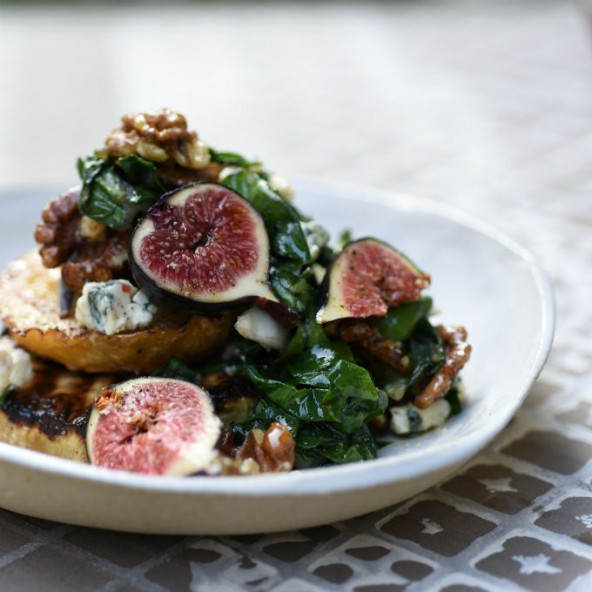 CELERIAC STEAK STACK WITH WILTED CHARD, HAZELNUTS, FIGS & STILTON
This is one of those hearty dishes that leaves you wanting more. My favourite addition to this dish has to be the pink peppercorns which offer a distinctly sweeter tang and work perfectly alongside the lemon zest on the earthy celeriac. Match this with the soft sweet flavour of the figs alongside the boldness of the blue cheese and you'll be in for an absolute treat. The vegetarian in my life can't get enough of this dish right now.
PREPARATION TIME: 10 MINUTES
COOKING TIME: 25-30 MINUTES
FEEDS: 4
INSTRUCTIONS
Begin by preheating the oven to 200 degrees celsius and peel and slice the celeriac (as above). Next place on a baking tray, sprinkle over lemon zest and add juice, then add seasoning and cover with foil and roast for 20 minutes. Remove foil and continue to roast for another ten minutes or until soft but crispy.
Prepare all other ingredients as noted.
Once you've roughly chopped the chard into thin strips add to a hot frying pan with a good glug of oil and seasoning, cooking over a medium to high heat for 1-2 minutes or for just long enough for the chard to wilt slightly.
This dish is best served on a large sharing platter where you can lay out the celeriac steaks one end and add the chard to the other, along with the figs, crumbled blue cheese, walnuts and spring onions. Serve straight away with an extra drizzle of oil and seasoning.
---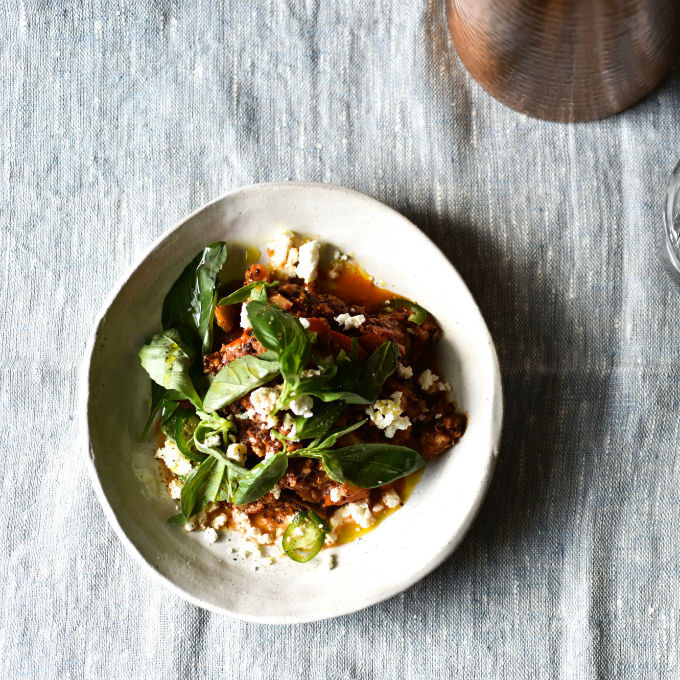 CAULIFLOWER RICE & QUINOA SPICY STEW WITH BASIL & CRUMBLED FETA
This is perfect for those days when the weather doesn't quite know what it's doing. There's some sunshine but not enough to get rid of the layers so something warming is still required. This dish is vibrant, spicy and fragrant with the abundance of fresh basil. Opt out of eating heavy carbohydrates and get summer ready with these great quinoa and cauliflower substitutes.
PREPARATION TIME: 10-15 MINUTES
COOKING TIME: 40 MINUTES
FEEDS: 4-6
INSTRUCTIONS
Begin by cooking your quinoa as per instructions (some varieties need rinsing first) this should take around fifteen minutes.
Next heat a generous glug of rapeseed oil in a casserole dish or large pan. Prepare all ingredients as noted, once the oil has increased in temperature add in the onion garlic, ginger and chilli, cook over a medium to low heat for several minutes, ensuring that the garlic doesn't turn golden.
For the charred peppers, if you're not using shop/jar bought do the following. Carefully (and using tongs) hold the pepper directly over the flame from your gas hob, turning once it blackens on one side and repeat until black all over. Place in a bowl and cover with cling film for several minutes, by which time the burnt skin should easily peel off. Alternatively roast on 200 degrees celsius, with a glug of oil, and remove once the skin darkens and peel as noted above.
Roughly chop or tear the charred peppers and add them to the pan with the onion and garlic. Next add in your tinned tomatoes, glug of red wine vinegar and paprika plus a good sprinkle of sea salt flakes and several turns of black pepper. Allow to cook over a medium to low heat for a minimum of 25 minutes. The longer you cook this over a low heat the more rich the flavours become. If the sauce does evaporate too much add a glug of water to loosen, you need to make sure you have enough sauce to easily cover the cauliflower rice and quinoa.
Have a taste and adjust seasoning or spice if necessary. Once you're happy with it simply add in your grated cauliflower, allowing it to cook for a minute or two then add in the quinoa and stir so both the cauliflower and quinoa are evenly coated.
Prepare your garnishes and then serve your stew either allowing everyone to serve themselves or plate-up not forgetting to be generous with the basil. Adding it at the end like this allows the flavours to stay as vibrant as possible – drizzle with extra virgin raepseed oil, additional seasoning if necessary, plus a sprinkle of crumbled feta.
For more recipes visit www.annabarnettcooks.com
Anna Barnett's book Eat The Week is available to buy now.