Emergency workers in the Philippines have buried the remains of 28 unidentified bodies of civilians and suspected rebels in mass graves, as the bloody conflict between Islamist militants and government forces continue.
The mass burials were carried out on a hillside in the besieged city of Marawi on Tuesday (5 September). The bodies were reported to have been retrieved from the country's battle zone.
As the burials took place, choppers hovered and bursts of gunshots were reportedly heard from the conflict zone nearby, local media said.
Volunteers placed the bodies in separate bags and put them into the graves, with each body carrying a number card for identification.
The bodies are all reportedly unidentified as some people who are looking for missing family members refused to identify bodies out of fear that they might find them dead.
Provincial crisis management committee rescue officer Saripada Pacasum said when he insisted one of the families to identify the bodies on Monday (4 September), "they refused".
Nearly 90 bodies in total are believed to have been buried in mass graves since June, but authorities fear the number of casualties could rise as fighting continues in the city.
The siege in Marawi on the Philippines' Mindanao island by the Islamic State-linked Maute group is considered to be very serious in the Asia-Pacific region. More than 800 people have died and nearly 400,000 displaced in the attacks since 23 May when the insurgents occupied large parts of the Muslim-dominated town.
The siege began after militants started to attack the town and kidnap civilians in retaliation for the army's failed raid to capture the local Abu Sayyaf militant group's head Isnilon Hapilon.
The Philippines has a long history of Muslim separatist rebellion in Mindanao, but the recent conflict pose the biggest security challenge in years for the Catholic-majority country.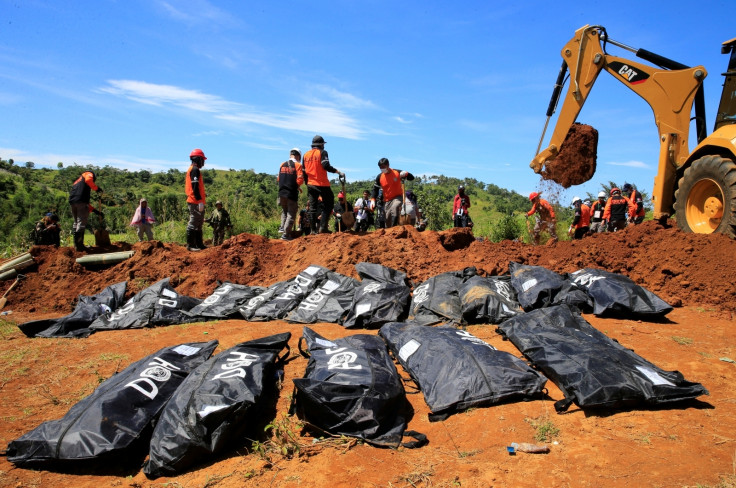 At least nine people were killed after Abu Sayyaf militants set alight houses in which women and children slept and then began shooting in their stronghold in the country on 21 August.
About 60 members of the notorious group entered the town of Maluso in Basilan island in the southern Mindanao region to carry out the ambush.
The militant group is known for abducting and beheading tourists or crew members in exchange for ransom. They have also carried out small bombings and extortion.
Mindanao, an island with a population of 22 million, has been placed under martial law until the end of the year by the tough-talking Philippines President Rodrigo Duterte.
Duterte had described the Marawi attack as the start of a major offensive by the militants, who have reportedly pledged allegiance to the Islamic State group to establish a foothold in the country.