Is the repeal of North Carolina's bathroom bill a good deal for anyone?
Compromise bill on LGBT rights has satisfied neither its supporters nor opponents.
What exactly makes a good deal? In North Carolina's case, it might just be anything that gets the state's basketball games back again.
After a deal to repeal the state's controversial "bathroom bill", brokered by Democratic Governor Roy Cooper, failed in December, hopes were not high that the state legislature would be able to finally repeal a bill that one recent estimate said was costing the state at least $3.76bn (£3bn).
Then there was the issue of the basketball.
North Carolina had long been a favourite state of the National Collegiate Athletic Association (NCAA), the organiser of popular college sports tournaments in the US.
However, on the passing of the House Bill 2 (HB2), which forbade municipalities to enact protections for LGBT people and dictated that people in government buildings must use the bathroom correlating to the gender on their birth certificate and not their gender identity, the organisation pulled events from the state.
The NCAA gave North Carolina a deadline of 30 March to repeal HB2. North Carolina made the cut, just – repealing HB2 on the afternoon of that very day – but the deal leaves its municipalities unable to enact protections for LGBT people until 2020.
According to Mac McCorkle, a professor at North Carolina's Duke Univeristy, the NCAA's deadline was "the symbolic hammer that finally worked". Speaking to IBTimes UK, the former lawyer, who has worked as a policy consultant for North Carolina's representatives, said the deal looks more like "a plea bargain."
It's not that the state is "basketball crazy", McCorkle said, but for people who didn't follow the ins-and-outs closely, the NCAA debate became a barometer: "The NCAA isn't liberal or conservative [by nature] so it became kind of the default judge in this case."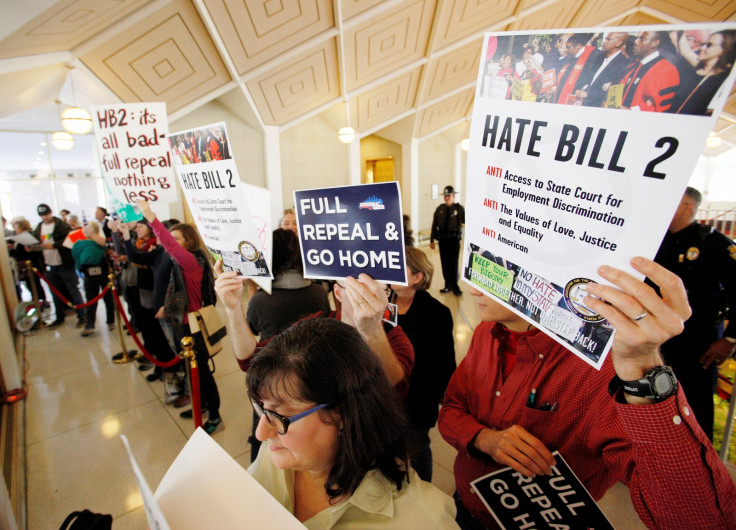 "The economic fog"
The deal's success will be decided by one factor, McCorkle said – whether or not it "lifts the economic fog" around North Carolina. Businesses have said they won't expand into the state until its record on LGBT issues shapes up.
"People are not focused on HB2 in terms of bathroom policy," he said. "They're focused on it as an economic development barrier. If that's not cured, the politicians will pay for that."
So how do we know when there's a good deal? As the bill passed through the state House of Representatives, two opposing ideas crept in.
One Republican was quoted as saying: "The fact that both sides are opposing it shows that it's a reasonable compromise." Soon after, another said entirely the opposite: "A good compromise bill is when both sides support it, and that's not really what we have."
Elizabeth Marvin, a partner with Lewis Baach in Washington DC, told IBTimes UK: "In my practice, I came to learn pretty quickly that neither side really feels like they win usually when a case is settled".
According to Marvin, the repeal isn't doing anything for North Carolina's LGBT communities: "What the repeal did was basically return the state to pre-HB2."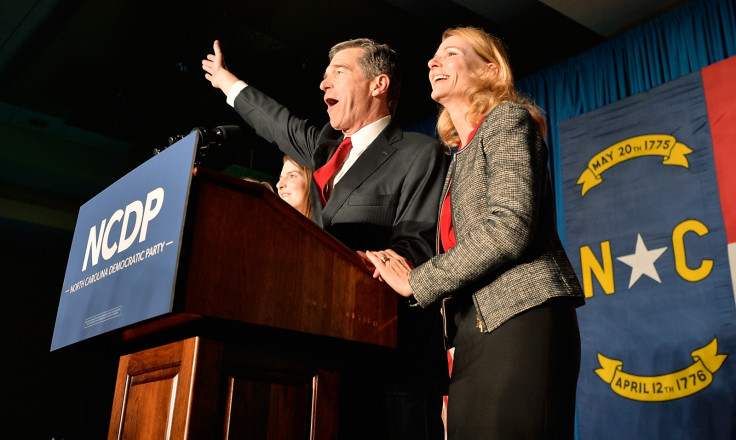 "[The deal] forbids government entities, including the University of North Carolina, from enacting any rules or laws on multiple occupancy bathrooms, showers or changing rooms. Those government bodies are now restricted from extending rights to LGBT individuals, and LGBT individuals will now rely on federal protections, but there are no federal laws that expressly protect transgender individuals," she said.
The state Democratic Party's 2nd Vice Chair, Matt Hughes, issued a statement that seemed to sum up the mood for those who wanted the full repeal: it's not good enough but maybe it's something.
"As a Democrat, and as a member of North Carolina's LGBTQIA community, I know how difficult this bill is for my fellow progressives and my community," Hughes said.
"I also know that with a Republican supermajority in power, a full and unconditional repeal which recognises the dignity of my community would not have passed."
The American Civil Liberties Union issued a statement, once the repeal had passed, urging Governor Cooper not to sign the bill. "This is not a repeal of HB2. Instead, they're reinforcing the worst aspects of the law," James Esseks, director of the ACLU LGBT Project, said in a statement.
"North Carolina lawmakers should be ashamed of this back room deal that continues to play politics with the lives of LGBT North Carolinians."
"Not a perfect deal"
No one is really happy with the bill. Governor Cooper, broker of the agreement and the man who signed it into law, admitted it is "not a perfect deal". Yet in a state as fractiously partisan as North Carolina is of late, maybe the fact that a deal survived at all is the success.
If the main purpose was to keep the NCAA happy, then even that might not come through. When tournaments were pulled, one reason the body gave was that state laws invalidate local law "that treats sexual orientation as a protected class or has a purpose to prevent discrimination against lesbian, gay, bisexual or transgender individuals". The deal bill has not ended this.
If the "economic taint" comes off the state, McCorkle says, people will praise Cooper for his work. However, "If the NCAA and various people say you're still on the banned list – that's gonna be a problem for everybody."
For those who want further protections for the LGBT community, they'll have to hope for federal help. "The big question going forward, at least for LGBT individuals," Marvin says, "will be how the pieces in the federal judicial system play out."
Follow James Tennent on Twitter: @duckytennent
© Copyright IBTimes 2023. All rights reserved.