Republic of Ireland international winger James McClean was booed by opposing Bolton supporters when he came on as sub for Wigan on Friday, after he refused to wear a poppy-embroidered shirt like his teammates.
Before Friday's Championship match – which Wigan lost 3-1 – the official Wigan website published a letter from McClean to club chairman Dave Whelan and Latics fans explaining why he made the decision.
"I have complete respect for those who fought and died in both World Wars," wrote McClean, 25. "Many I know were Irish-born. I have been told that your own grandfather Paddy Whelan, from Tipperary, was one of those. I mourn their deaths like every other decent person and if the poppy was a symbol only for the lost souls of World War One and Two, I would wear one."
Despite being born in Derry, Northern Ireland, McClean chose to represent the Republic, for whom he has been capped 24 times. He had to close his Twitter account after receiving sectarian abuse as a result.
In the open letter McClean explains why the poppy as negative connotations for people coming from staunchly Republican districts such as Creggan, close to the scene of the Bloody Sunday massacre in 1972 as a result of which 14 innocent civilians died.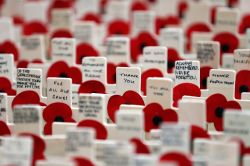 "Please understand, Mr Whelan, that when you come from Creggan like myself or the Bogside, Brandywell or the majority of places in Derry, every person still lives in the shadow of one of the darkest days in Ireland's history – even if, like me, you were born nearly 20 years after the event. It is just a part of who we are, ingrained into us from birth."
Despite McClean's carefully-considered words, he was still booed on the pitch at the Macron Arena and subjected to abuse on social media.
McClean also refused to wear a poppy when playing for Sunderland in 2012, after which he received at least one death threat.
After that incident McClean's then-manager martin O'Neill, himself from Northern Ireland, said wearing a poppy was a matter for the individual.
"I think that there was some major journalist [Jon Snow] who would be as big a supporter of Remembrance Day as anybody, but who said he didn't wear a poppy because he felt people were telling him he should do it. James has lived with a lot of things. He's getting death threats now, so that doesn't help."