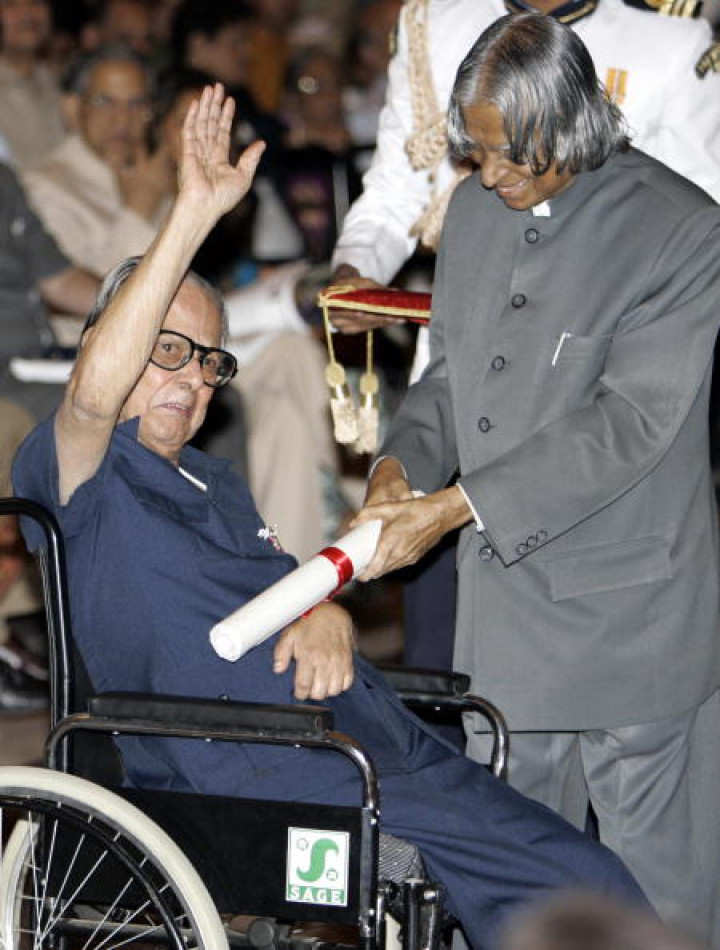 At around 9.30 am I was woken up by the ringing of my phone. It was a call from my office. After having reached home only at 3.30 am, I was wondering what had gone wrong in office that I was being called in so early. Nonetheless, I took the call and it was my resident editor's personal assistant at the other end.
He calmly said: "Jerome, please speak," and transferred the line. An unknown voice on the other end, asked: "Are you Jerome?"
"Yes," I answered, trying in vain to recognise the voice.
"This is RK..." the voice on the other end said.
"Who?" I asked.
To this, the man on the other end shot back: "Who do you think you are..."
I was completely taken aback but before I could say anything, I noticed my deputy resident editor was trying to reach me on the phone as well.
By now I was sure something was wrong. So I asked the caller again, "Who is this?"
"RK Laxman," came the reply.
I was wide awake now and wondered why on earth a world renowned cartoonist and a member of the board of the Times of India (my then organisation) was calling me at this odd hour. Odd hour, because as a journalist my office timings were from 4.00 pm to 2.00 am and I refused to entertain any calls prior to 11.00 am.
I soon ended the conversation with RK Laxman, pretending the network was poor and called up my deputy RE. Had I dropped a cartoon by RK from the business page, my deputy RE, wanted to know.
"Yes," I said. "There was a last minute story that had to be carried in all editions, which I had to accommodate as well – and it fit perfectly in the slot that I had carried RK's cartoon in – so I checked with you and you gave the go ahead."
There was a brief pause and then he said, "Ok, head to office now, I'll see you there."
By 11.30 am I was in office, and saw RK sitting in the editor's cabin, walking stick in hand. I entered, perspiration on my forehead and nervousness writ large on my face. It dawned on me then, that I was going to be fired.
As I entered, the elderly gentleman smiled and said, "Jerome? Sit down."
I took the chair farthest from him, anticipating a swipe of the walking stick he was holding on to. I was only 24 at the time.
He smiled again, and asked me the reason for dropping the cartoon.
Daring not to look at the big man, I turned to my editor and said, "Sir, there was a last minute story from Mumbai, which needed to go in all editions..."
Laxman cut me off with: "The next time, drop the page but not my cartoon."
Then, smiling all the while, he asked me to get to work. I was so terrified that I scooted to my work station and switched on the computer, realising only after sometime that work would not start for the next four-and-half hours at least.
This morning (27 January), almost 10 years since the incident, I woke up to read about the legendary cartoonist passing away... And all I could picture was his curt smile and his ardent appeal.
The creator of the 'Common Man' passed away at his home town of Pune, India at the age 93, on January 26.
He was a defiant man and has depicted unimaginable emotions in his Common Man.
He is definitely one of the best known caricaturists in the world, and will be looked upon as the best there will ever be, at least for me.
Laxman, who started the 'You Said It' pocket cartoon on the front page of the Times of India way back in 1951, was awarded the prestigious Magsaysay award in 1984 for journalism, literature and creative communication arts and the Padma Vibhushan in 2005.
After the recent massacre of the editor and cartoonists along with other staff of the French magazine Charlie Hebdo, the world of creative journalism has suffered yet another setback with the death of the legendary RK Laxman.