Restored Oscar Wilde Tomb Unveiled to Mark Anniversary of Writer's Death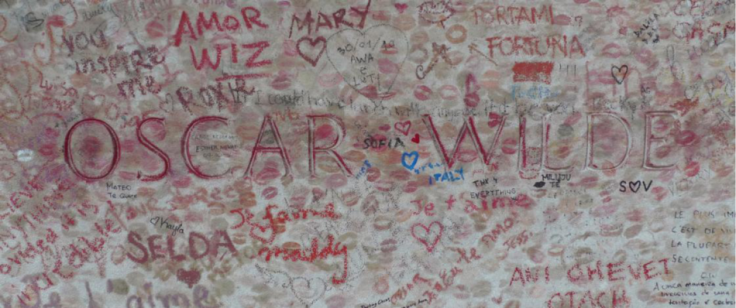 For the last decade or so, "kissing" Oscar Wilde has become something of a cult pastime on the Paris tourist circuit. The Irish writer's tomb in Paris' Père Lachaise cemetery was showered in kiss after lipsticked kiss as fans showered the stonework with their affection for the quintessential dandy.
Now, to mark the 111<sup>th anniversary of the writer's death, Ireland has funded a radical cleaning and de-greasing of the tomb, and has also erected a glass barrier around the grave to prevent further damage by adoring fans.
"The grease base of the lipstick penetrates the stone and long after the colouring pigments have faded, a grease 'shadow' is still visible," said the Irish Cultural Centre in Paris.
"From a technical point of view the tomb is close to being irreparably damaged," they added.
Oscar Wilde's tomb, which bears the emblem of an Assyrian-like angel, has been classified as a French Historic Monument since the mid-1990s.
Wilde, who died penniless in a Paris hotel room in 1900 at the age of 46, would have enjoyed all the fuss, said his grandson Merlin Holland.
"If my grandfather had been here he would have loved the attention. The attention has always been given over the last 30 years with notes and then lipstick but now art has to triumph over what the French call 'degradation'," he said.
The disgraced writer left London after serving two years in prison for homosexuality. He was initially given a "sixth class burial" outside Paris, but his friend and literary executor Robert Ross was able to annul his bankruptcy and pay for a plot at Père Lachaise cemetery by selling the author's works.
A ceremony to unveil the newly restored tomb was attended by Irish and French officials, as well as Wilde's grandson Holland and actor Rupert Everett, who starred in the 2002 film version of "The Importance of being Ernest."
© Copyright IBTimes 2023. All rights reserved.