It appears technology is going through a revival phase as Amazon announced its best-selling items this holiday period consisted of a vinyl player and instant camera film. The two items stood out during Amazon's end-of-year sales report and beat out its more modern contemporaries.
Millennials and newer generations would have never heard of, let alone come into contact with these two items of technology, yet for some reason the Jensen JTA-230 turntable and Fujifilm Instax instant camera film have taken the top spot for most-sold home audio and camera product sold by Amazon in the US at Christmas 2015.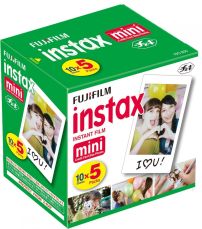 The Jensen record player, which plays vinyl records through its built-in speakers, bettered the likes of the Sonos Play:1 speaker – one of the most highly-recommended audio products around. Exactly how many were sold is unknown, with Amazon notorious for not releasing precise sales numbers on its products. However, it is know that vinyl has seen a boom this year with sales up 50% and with two million records expected to be sold in 2015 it sits at a 20-year high. Jensen's relatively cheap $54 (£36) unit is an affordable, all-in-one solution for those looking to get into the analogue music scene – something that's still revered by audiophiles as the best quality music around.
Equally anachronistic was the surprising revelation that Fujifilm's instant camera film for use in its Instax range was a top seller, out-muscling the GoPro Hero 4 for top spot. For anyone out there who has no idea what we're talking about, there was a time before digital cameras and memory cards. These Polaroid-style cameras instantly print out what you just snapped. Who exactly owns one we don't know (it's either teens or hipsters) but they clearly seem to have a following as the cameras themselves were more popular than any other camera on Amazon's marketplace.
Also included in the sales report were a few fun facts that highlighted just how much was sold over the Christmas period. It claims Amazon.com customers purchased enough Jenga sets to reach the top of the Empire State Building more than 70 times, enough Anki OVERDRIVE Starter Kits to wrap around the Daytona International Speedway more than 10 times and enough 50-inch TVs to span the average width of the Grand Canyon.
Of course, it's all just a bit of marketing fluff but the vinyl revival might come as a welcome relief to those who are exhausted with the rapid pace of technology's evolution. For us, we can't wait for the next round of what's next as we gear up for the Consumer Electronics Show – the biggest gadget show on Earth – where we'll be seeing all the biggest tech to come in 2016. Maybe there'll even be a few record players.