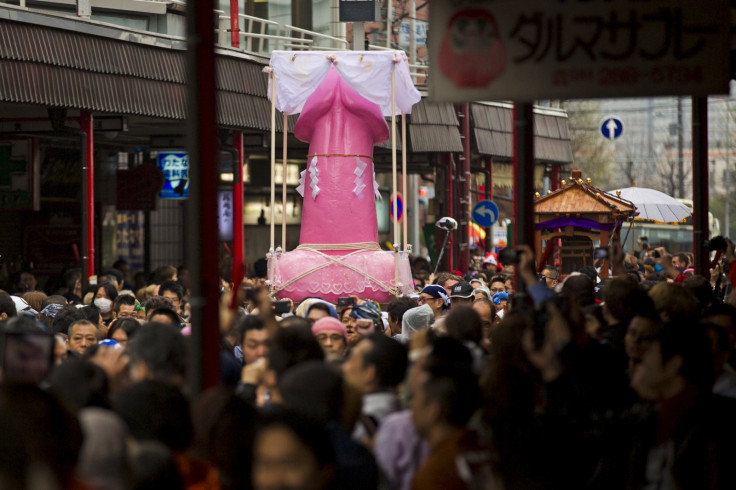 Japan's Shinto Kanamara Matsuri – or the festival of the steel phallus – takes place in Kawasaki on Sunday, 2 April. Though the event started as a celebration of fertility centred on the Kanayama shrine, it has since become a more light-hearted affair and is now embraced by revellers as the "penis festival".
The festival takes place each year on the first Sunday of April, when tourists and locals alike line the street to pay homage to the male appendage, carrying penis-shaped shrines and lollipops. Though the light-hearted celebration coincides with the advent of spring, the season symbolic of new beginnings rebirth and often associated with fertility, it is based on a surprisingly dark folk tale.
Based on the vagina dentata, in which a woman's vagina is said to have teeth, the Japanese fairy tale tells of a demon who takes up residence in the vagina of a young woman as retribution for her rebuffing his advances. Deciding the woman should not be able to find love elsewhere if he could not have her, the toothed demon was said to have bitten off the penises of not one, but two men as they tried to consummate their marriages with her.
Not knowing where to turn, the woman sought the help of a local blacksmith to fashion a steel penis that would smash the pesky demon's teeth, enabling the woman to go about her business of, presumably, domestic bliss. The steel penis was commemorated with an iron statue outside the Kanayama Shrine in Kawasaki, which is dedicated to the Shinto god of blacksmiths.
Vagina dentata features more in a number of folk tales, centred around the idea of the vagina as a weapon and sexual intercourse as a means by which men may be emasculated or castrated. It is often cited as the inspiration for the 1979 Ridley Scott film, Alien, highlighting male anxieties during the second-wave feminist era.
Despite the less the connotations of the folklore on which it is based, the Kanayama shrine was adopted by local sex workers who it was said would gather around it praying for protection from sexually transmitted diseases. As a consequence, it and the festival now serves as a fundraiser for HIV and Aids and to raise awareness.