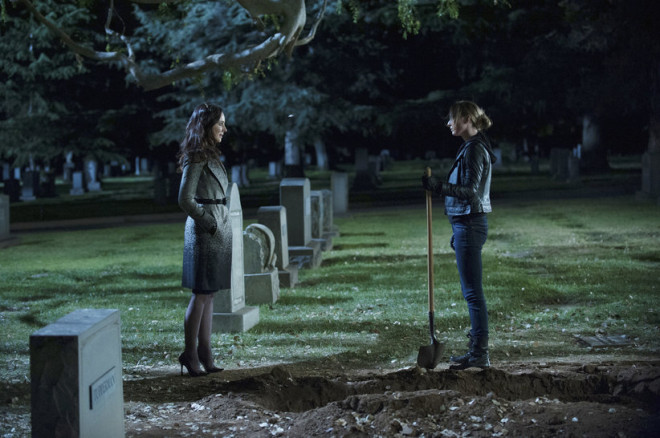 Revenge Season 3 finale will air tonight (11 May) and the episode promises to really shake things up. Reportedly, a \'crazy twist\' awaits fans.
Revenge Season 3 Episode 22 titled \'Execution\' can be viewed online via live stream, at no extra cost, by clicking here.
Also, the episode will be made available online free of cost the very next day (via Latin Times).
You can click here to view.
The official synopsis of the episode reads:
\"Nothing is off limits as Emily and Victoria are dead set on destroying each other,\" and according to showrunner Sunil Nayar, there will be some Emily and Victoria scenes this week that will blow our minds, reports Wetpaint.
Maybe the graveyard confrontation between the two that is seen in the promo (below) is one such scene.
The synopsis ends with: \"lives will be lost and fates will be altered, but who will rise victorious?\"
Nayar has already teased a major death scene in the finale. Who\'s it going to be?
Wetpaint did a roundup of key plot points based on sneak peeks, hints and promo:
Emily gets drugged. While snooping around a cabin, she runs into trouble when someone manages to stick a needle in her.

Is Daniel the one who dies? According to the showrunner, \"Daniel will be in peril by the end of the season — deliciously so.\"

This episode will also involve a visit to a psych ward. Wonder what that\'s about.

The episode will feature Gideon - Margaux\'s brother. It remains to be seen if he\'s got anything to do with the \'crazy twist\' in store.
Revenge season 3 episode 22 Execution will be airing on television on Sunday (4 May, 2014) night at 10:00 pm ET/PT on ABC.