The Invoxia NVX 610 is a desk phone with a difference, it brings powerful conference call features, clever iOS integration and more than a hint of Apple-inspired design.
Invoxia is a French company that is new to the world of voice-over-IP (Voip) telephony and the NVX 610 is a desk phone that is compatible with the iPhone and iPad and offers Skype calling.
Look and feel
The Invoxia desk phone sells itself on its looks as much as what's hidden away inside. The glossy white and aluminium design could easily pass for anything found in one of Apple's retail stores and even the packaging is similar to the boxes Apple uses for its MacBook range.
The unit is reassuringly weighty and houses eight speakers which offer very good quality for both phonecalls and music playback. Even the handset mimics the iPhone's aluminium edge, and the soft rubber around the earpiece has more than a whiff of retro chic about it.
While the Invoxia does most of the processing itself, it relies almost entirely on input from an iPhone or iPad. There's a free Invoxia app that you need on your iPhone to operate the unit; the app includes a dialer, recently called list and access to your iPhone and Skype contacts.
On the desk phone itself there's an iPhone dock (there's also several plastic inserts to fit varying models of iPhone), as well as an aluminium volume knob and touch sensitive buttons for mute and voicemail access.
One quirk of the Invoxia phone is the variety of magnetic rubber stands that the handset rests on. Our review unit came with three of these, in grey, orange and green; connected by magnets to the unit, the handset rests neatly on top.
More than just holding the rubber stand in place, the magnets also interact with the handset and a dial tone is only produced when the handset is lifted up. It's a neat solution and makes do without a button for the handset to sit on.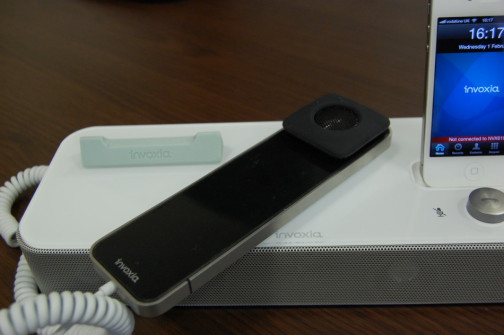 Around the back there are two USB ports (one for the handset), two Ethernet ports to connect to your computer and/or phoneline, a power socket and the on/off switch.
Features
The Invoxia desk phone makes great use of those eight speakers, by cleverly sending different voices in a conference calls to different speakers, so if two officers are using the phones to talk, then someone sat to the left of the unit will be heard from the left on the other end of the call. This makes very very intuitive conference calling and helps contributors to tell voices apart as they all come from slightly different directions.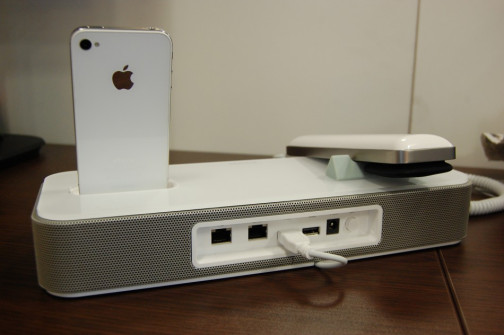 The brace of speakers also do a decent job of playing music, which is possible through the iOS iPod app of the connected Apple device. The quality doesn't rival that of a high-end, dedicated iPod speaker dock, but the Invoxia does a good job considering music playback is not it's main selling point.
While the desk phone uses your iOS device for input commands, the processing is actually done internally by the unit itself, thanks to its ARM Cortex-A8 processor. Incoming calls to the iPhone can be taken with the handset, but all outgoing calls use Skype, rather than the iPhone's mobile network connection. At first this confused us, but in reality it works just fine as all of your contacts are on display, there's no need to switch between iOS and Skype address books.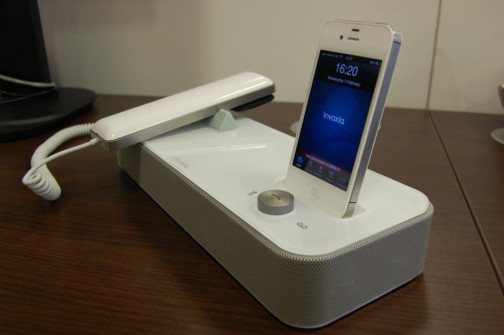 There's Bluetooth connectivity onboard so you can pair your iPhone with the phone wirelessly, or connect a Bluetooth headset.
Currently priced at £417 excluding VAT, the Invoxia NVX 610 is not intended as a home phone or just another iPhone dock; it's much more than that, and should be viewed as a high-end phone for corporate use.
For any office looking for a desk phone solution for its employees - and specifically a solution that boasts great, eye-catching design and simple integration with iOS devices - then the NVX 610 is a great option.
The Good
We loved the design, but it's perhaps not for everyone
Very good sound quality
Directional sound technology is clever
Feels sturdy and well made
The Bad
Far too expensive for consumers, definitely a corporate device
A little complicated to set up, very few instructions
Overview
The Invoxia NVX 610 is a stylish and well made desk phone dock for iPhone and iPad, with excellent sound quality and powerful conferencing features. It's not aimed at the consumer market, which is a shame, but for office use it brings a strike of smart design to a world of dull grey desk phones.