Star Wars 8 is in its post production stage as it gears up for its December 2017 premiere date. The plot of the space-action thriller is a top secret. An interesting news from Daisy Ridley, who plays Force bearer Rey in the film, may throw light on the storyline and her parents' origins.
In Star Wars The Force Awakens, fans were intrigued by Rey's identity, who was working as a space scavenger on the planet Jakku. The character herself was puzzled by her origin with faint memories of being left on the deserted planet.
In a recent interview with Vulture, Ridley gave a strong hint that the curtain on her parents' identity might be lifted in Episode VIII. Upon asked by the news outlet about her relationship with Obi-Wan Kenobi, the English actress neither affirmed nor denied the possibilities and replied: "We will see in a year ... Just sit tight on that question."
Upon asked whether a fan theory that suggests that her character may have a connection with Rogue One's Jyn Erso, she said: "I mean, I think historically it wouldn't work, because she is ... Darth Vader is there ... so she would ultimately be my great-grandma; no, she would be my grandma ... I mean it could happen, especially in a galaxy far, far away."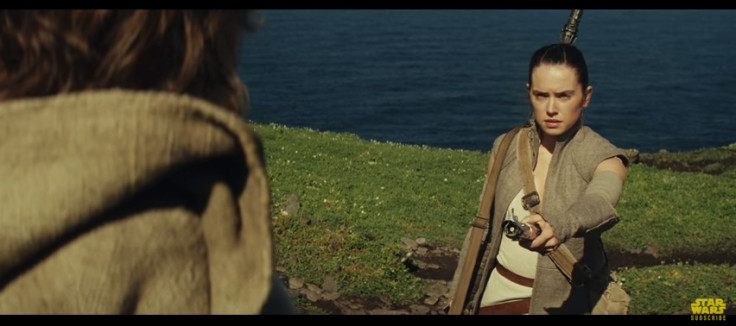 With the kind of Force she is capable of, speculations are high that she is related to the Darth Vader's family; possibly, the daughter of former Jedi Master Luke Skywalker. She may also be related to Kylo Ren as a sibling. While another theory suggests that Rey may be the descendant of Kenobi.
It remains to be seen as how many of these fan theories will be incorporated in the eighth instalment of Star Wars, which will be directed by Rian Johnson. Mark Hamill, Carrie Fisher, John Boyega, Lupita Nyong'o, Adam Driver, Andy Serkis and Oscar Isaac will return to reprise their respective roles in the space action odyssey by Disney. The movie is scheduled to be released in 2017.