The Walking Dead season 7 premiere episode has been aired in the US and it was an hour-long torture to see Negan unleashing his brutal wrath on Rich Grimes and his fellow Alexandrians. Six months (which felt like six years) after the season 6 finale, fans finally found out who the victims of Lucille (The Savior leader's barbed-wire baseball bat) were.
Warning - Spoilers ahead: If you have not watched the first episode of TWD season 1 yet, avoid reading beyond this point as the article contains the identity of the victim(s). Click here to watch the premiere episode online via live stream (only in the US).
The death scene was a battle between the two alphas of the post-apocalyptic world. Rick tried to display his power by killing a few of the Saviors in season 6. Little did he know that his actions would haunt him for a prolonged period once the other alpha decided to take revenge.
And that's exactly what happened in the first episode. "I'll Kill you... Not today... Not tomorrow... but I am gonna kill you" were the dialogues while episode 1 opened. Both Andrew Lincoln and Jeffrey Dean Morgan gave an Emmy-worthy performance in the powerful scene that stretched for almost 20 minutes. Negan's psychological torture literally broke Rick, who will perhaps regret his haphazard decisions for the rest of the series.
Negan broke Rick's morale so hard that the father-of-two may not be able to gather his soul up for the next few episodes. Jeffrey Dean Morgan's character played the dreaded game of Eeny, meeny, miny, moe and knocked Abraham Ford (Michael Cudlitz) down by hitting him repeatedly with Lucille.
The fatal blows reduced fan favourite Abe's head into a bloody mess. While the rest of the members followed Negan's rule and chose to cry silently, Daryl Dixon couldn't hold his emotions back. His violent reaction led Morgan's character to teach another "lesson" to the Alexandrians and to Maggie's horror, killed Glenn in a shocking move. IBTimes UK has previously predicted the death of Glenn and Abraham.
"I'll find you Maggie" were the last words from the beloved character played by Steven Yeun. But the wrath of the Saviors did not end here, as their leader took Daryl hostage after day broke and warned Rick to pay him or prepare to have pieces of the crossbow warrior sent to him.
The brutality of the episode so affected TWD fans that they took to social media to voice their hatred for Negan. Even though everyone agreed Morgan has made the dreaded comic book character come alive on screen, they are still unable to process the shock.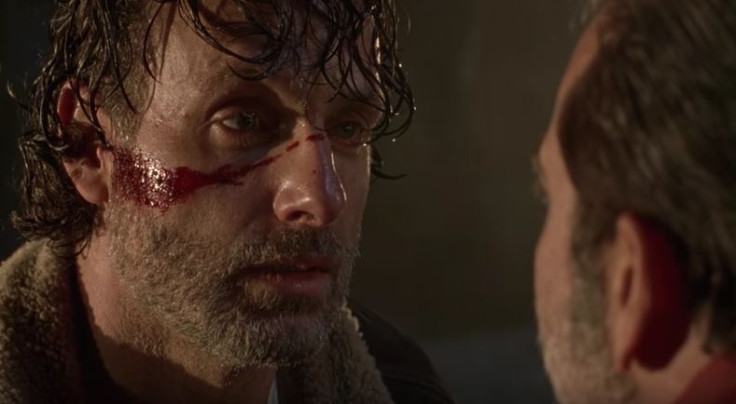 Here is how fans expressed their anger against the Savior leader.