Rhea On the Loose: Deadly Giant Bird Spotted in Hertfordshire Countryside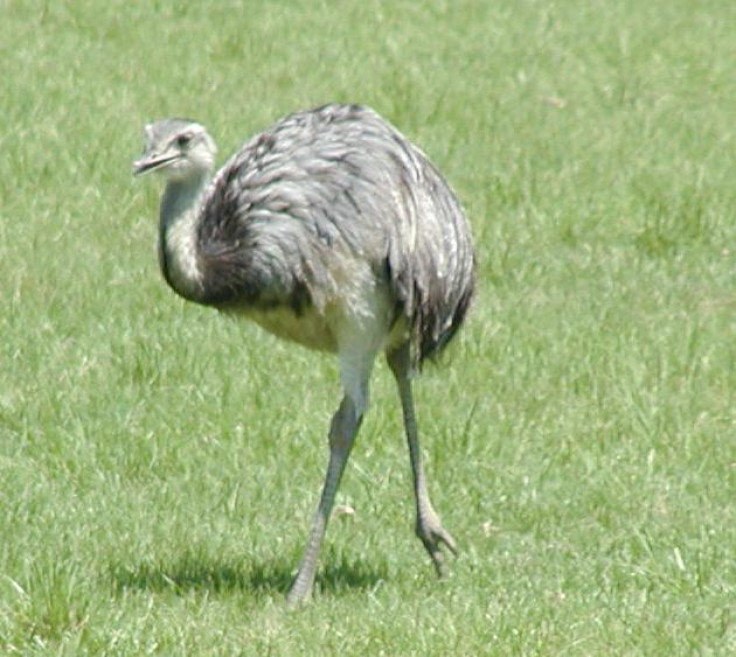 A giant bird that can disembowel a man with its claw is on the loose in the English countryside.
The South American rhea, which is about the size of an ostrich, has been spotted around fields in Hertfordshire.
The bird went missing from its owner four weeks ago and was first spotted by cyclist Ray Murdoch, who told the Telegraph: "In the distance I saw what appeared to be a large bird, the closer I got the more perplexed I got, I thought it was a crane, I got closer [and realised] 'no it isn't.'
"The bird was trotting along just a couple of metres off the road in the edge of a field.
"As I got closer it kept looking over its shoulder at me. I think the rhea was as amazed to see a cyclist as I was to see a rhea."
A few days later civil engineer Tim Bradshaw, 37, saw the bird in a field near the village of Anstey.
"We had heard it was living in the woods near our house so I got my camera - it seemed more scared of me than I was of it," he said.
The bird's owner, Jo Clarke, said she keeps four rheas on her land because they are good at eating weeds.
"The bird escaped after being spooked by the local hunt," she said.
Di Pyper, master of the Puckeridge Hunt, told Mail Online that members of the hunting party had seen the rhea trotting away when they hunted a trail near the bird's home.
"We weren't very near it and the hounds didn't go anywhere near it but some people told me they'd seen what they thought was an ostrich trotting through a field," Pyper said.
"I saw the bird the next day when it came past my house and I told the owner, as did several other people who sighted it, but I'm not sure anything was done."
A spokeswoman for the UK animal welfare charity RSPCA urged anyone who spots the bird to get in contact with them.
The rhea is a flightless bird native to South America; male rheas are much more likely to be aggressive than females.
The birds are omnivorous, often eating insects and small vertebrates.
© Copyright IBTimes 2023. All rights reserved.