His was a voice of lazy mornings and balmy nights. Of picnic meadows and cut grass. Of cloudless, copacetic equanimity free of edge or worldly cynicism.
Richard Benaud's was a voice of endless summer. And now, the sun has finally set. But oh, how brightly it shone.
Few people enjoy but one stellar career but Benaud was talented enough to have two. As a professional cricketer, he became one of Australia's most storied champions, taking 248 wickets in 63 Tests, a return that ranks among the best ever achieved in his sport. Until Shane Warne arrived in the early 1990s, Benaud was his country's greatest-ever slow bowler.
Then he became a commentator, a trade he turned into an art form. As a player Benaud had been known for his fervent celebrations after taking a wicket, but as a broadcaster he became famous for the economy of his delivery. His laconic approach, based on the dictum that the commentator should only speak when he can add to the picture, became a refreshing counterpoint to the barrage of hyperbole provided by many of his colleagues.
Listening to Benaud talk about cricket was one of the great pleasures of the summer months, like reading under a beech tree or nattering around the embers of a barbecue. His soothing, considered delivery reflected the best of the sport we adored.
Rebellious streak
But Benaud could be rebellious when he wanted to be. In the late 1970s, he was in the vanguard of the World Series Cricket revolution, commentating on the breakaway tournament and providing expert advice to its paymaster, Kerry Packer, a bullish media mogul to whom he was the perfect antithesis.
WSC poached the game's best players, paid them huge salaries and fathered all manner of innovations, from drop-in pitches to day-night cricket. Traditionalists of the day saw this breakaway tournament in much the same way today's old-timers view the IPL: as a gauche, ill-considered hype machine that would soon fizzle out.
Benaud saw it as a vital step forward in the game's development, a way to ensure a better deal for elite cricketers who had previously been employed in virtual serfdom.
When WSC came along it, created a civil war with the game's existing administrators and many believed Benaud's reputation would be forever sullied by his role in this tacky circus. Yet today, cricket revolves around the innovations of WSC and Benaud is feted as a pioneer, a man who stood up to the establishment and helped bring down a system that was patently unfair.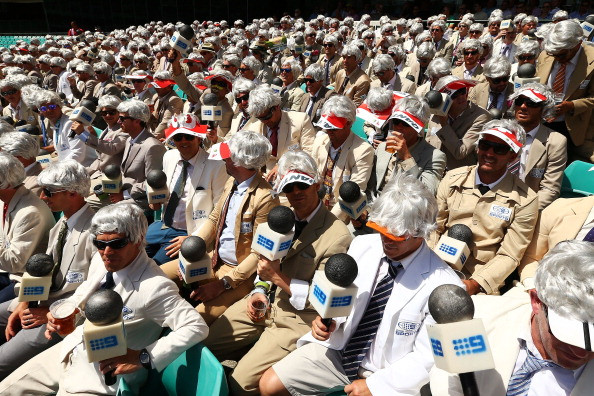 Throughout his commentating career, Benaud divided his time between Australia and England, moving from one summer season to the next. Unlike the Sky commentators of today, who only get out of bed for Test matches, he would commentate on anything, as long as it involved leather and willow; not even the most humdrum of county one-day matches was beneath him.
Other Australian commentators would descend to biased taunting at the very mention of the word "Pom" but Benaud was always strictly impartial. When England and Australia played each other, you never felt he was rooting for the Baggy Greens, despite his obvious Antipodean ties.
Fittingly, his last series in Britain was the 2005 Ashes, which has gone down in history as much for its spirit as its quality. Benaud was on the mic when Andrew Flintoff got down to console Brett Lee after the Edgbaston epic; there could have been no more fitting narrator for the moment.
With a somewhat bitter irony, the man who epitomised the beauty of summer has succumbed to skin cancer. But Benaud's friends, family and millions of admirers can look back happily on a life gloriously fulfilled, and a man who spent his entire life doing something he loved – while helping the rest of us love it too.