Legendary commentator and former Australian cricket captain Richie Benaud has died.
According to Reuters, the ex-sportsman, who was treated for skin cancer in November 2014, passed away in his sleep at a hospice in Sydney. He was aged 84.
"An Australian Test great who nurtured a generation's love for the game with his commentary has passed away. After Don Bradman, there has been no Australian player more famous than Richie Benaud," a statement on Cricket Australia's official website read.
"Benaud stood at the top of the game throughout his rich life, first as a record-breaking leg-spinner and captain, and then as cricket's most famous – and most impersonated – broadcaster."
During his illustrious career, Benaud became a firm favourite with fans thanks to his dry humour, epic one-liners and perfect delivery.
In tribute to the talented commentator, IBTimes UK has put together a few of his best quotes and commentary.
Leadership
"Captaincy is 90% luck and 10% skill. But don't try it without that 10%."
Economy
"The key was to learn the value of the economy with words and to never insult the viewer by telling them what they can already see."
Drama of the game
"The slow motion replay doesn't show how fast the ball was travelling."
Leaving the BBC after four decades
"It was sad leaving the BBC; not quite like being divorced, but you don't leave after a period stretching from 1960 to 1999 without feeling a certain number of pangs."
Working smart
"My mantra is: put your brain into gear and if you can add to what's on the screen then do it, otherwise shut up."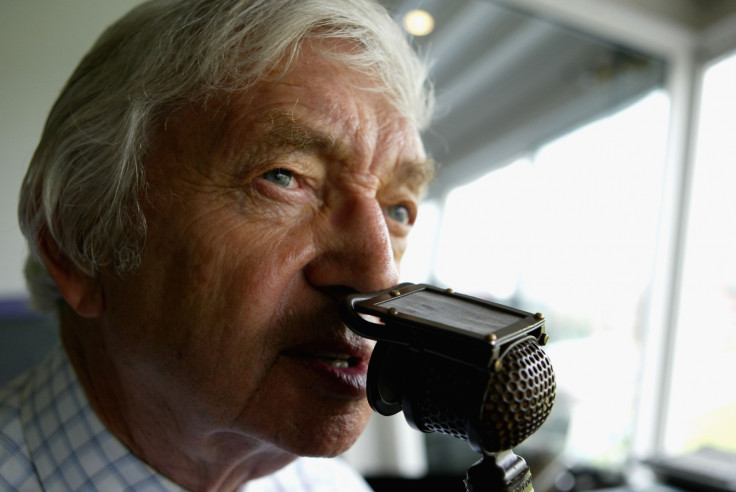 Personal grooming
"When my hair is long enough to be cut, I go to my wife's hairdresser, and she generally pays for it."
Changing face of cricket
"I know it's more five-star now than it was then, but it's still a difficult tour. In the same way as India and Pakistan players find it difficult coming to Australia. People sometimes have difficulty believing that."
Constantly impersonated
"The only thing that really annoys me is when all of a sudden you hear yourself on the radio advertising Smith's tyre shop or Blenkinsop's jam. They simply can't do that. And in Australia, occasionally I have to take action."
Being a broadcaster
"From our broadcasting box you can't see any grass at all. It is simply a carpet of humanity."
Changing Australian cricket
"Media were never allowed into an Australian dressing room until I became skipper. I changed that and invited them in at the close of play each day, thereby confirming for many administrators they had appointed a madman as captain."