Right Sector Ultra-Nationalists Back Odessa Jews over Holocaust Memorial Nazi Defacement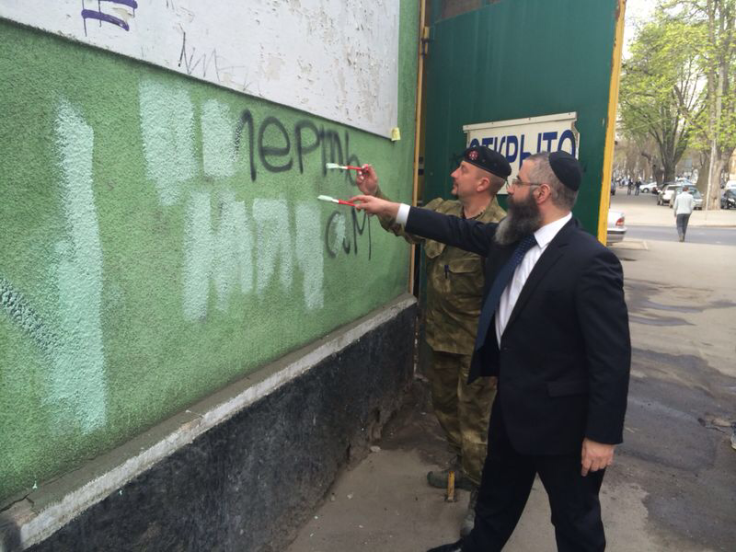 A representative of Ukraine's far-right Pravy Sektor (Right Sector) travelled to Odessa after vandals defaced a Holocaust monument with Nazi symbols to show solidarity with the local Jewish community.
Swastikas and the SS Wolfsangel sign were painted on the memorial site along with the words "Right Sector" and "Death to the Jews".
The role of Right Sector in post-revolution Ukraine was seized upon by Russia to justify its intervention in Crimea by arguing that Kiev had been taken over by fascists and neo-Nazis. Russian president Vladimir Putin said the Maidan uprising in Kiev had been hijacked by Jew-haters and Nazi sympathisers.
But Right Sector, whose leader Dmytro Yarosh is on Russia's wanted list, dismissed Putin's claims.
A senior Right Sector member, who has not been named, went to Odessa and met Chief Rabbi of Odessa and Southern Ukraine Abraham Wolff. Both were depicted painting over the Nazi symbols, according to Russian Forum Daily website.
Right Sector offered the rabbi assistance to protect Jewish sites in the city and said it would find those responsible for the desecration.
Ukraine is home to several hundred thousand Jews and many are reported to have actively supported the revolution.
Putin said that Russia's biggest concern was "the rampage of reactionary forces, nationalist and anti-Semitic forces going on in certain parts of Ukraine, including Kiev".
A prominent Ukrainian rabbi, Hillel Cohen, was beaten and stabbed in Kiev in March in an alleged anti-Semitic attack.
A synagogue in eastern Ukraine 250 miles outside Kiev, was firebombed and reported minor damages.
One of the three main political parties that led the three-month-long protests which ousted Yanukovich, the ultra-nationalist Svoboda – Freedom – party, has been accused of anti-Semitism in the past.
However, Ira Forman, the US special envoy on anti-Semitism, dismissed Putin's claims that Ukrainian revolutionaries were Jew-haters.
"We have no indication that what President Putin has been saying about anti-Semitism has been a true reflection of what's happening on the ground," he said.
However BBC Kiev correspondent David Stern reported that anti-Semitism "played absolutely no role in the demonstrations and government".
© Copyright IBTimes 2023. All rights reserved.