Caribbean singer Rihanna looks wonderful on the cover of Elle UK's April 2013 issue and in the accompanying article, the 25-year-old talks about her troubled and controversial relationship with boyfriend Chris Brown and her wish to have a baby five years down the line.
The Diamonds singer admitted her recent single - Stay - is based on her relationship with Brown, who assaulted her before the 2009 Grammy Awards.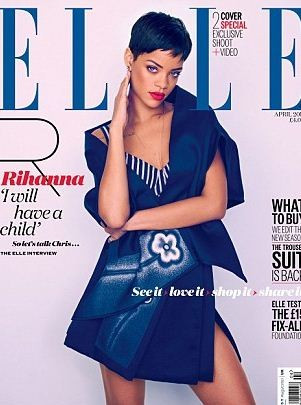 "Stay is a story about having love that close and wanting it to last forever. You don't have that feeling with everybody so when you have it you don't want to let go of it. I would definitely say that he is the one I have that kind of relationship with," she said, adding, "Right now that's just what we want, a great friendship that's unbreakable. Now that we're adults we can do this right. We got a fresh start and I'm thankful for that."
The Barbadian beauty also opened up about her plans for the future.
"I will probably have a kid. And I'm praying I can go on vacation for a good month. And I'll have set some things up so I don't have to tour for the rest of my life, even though I love touring. I want health and happiness in five years. I want to be healthy and happy," she said.
The Where Have You Been singer, who recently celebrated her 25th birthday, was photographed in Paris by Mariano Vivanco for the issue and is shown wearing several pieces from the Spring/Summer 2013 collection for River Island.
The full interview is in the April issue of Elle UK and will be out on 6 March or available as a digital download.
Click here to take a look at the Rihanna for River Island show at the Autumn/Winter 2013 collection during London Fashion Week...