Their on-screen chemistry is sizzling in the music video for new single Work but Rihanna and Drake are just friends says one of the clip's directors. Rihanna, 28, released a double music video for the Caribbean-themed track, both of which feature her dancing intimately with the Canadian rapper whom she has dated on and off in the past.
Tim Erem directed the second Work video, which features Rihanna twerking in front of Drake as he casually admires the view from a sofa. Fans are now speculating whether the former couple have rekindled their romance but Erem, who has worked with the likes of Major Lazer and Tove Lo, insists their relationship is purely platonic.
The director told Entertainment Weekly: "These are just two friends that are really close to each other. Just put them in front of the camera and that's what they do. You start recording and the whole chemistry just changed. Everyone's asking, are they together or they this or are they that? No, they're friends. They're just amazing performers and they're really close to each other. So everything was natural."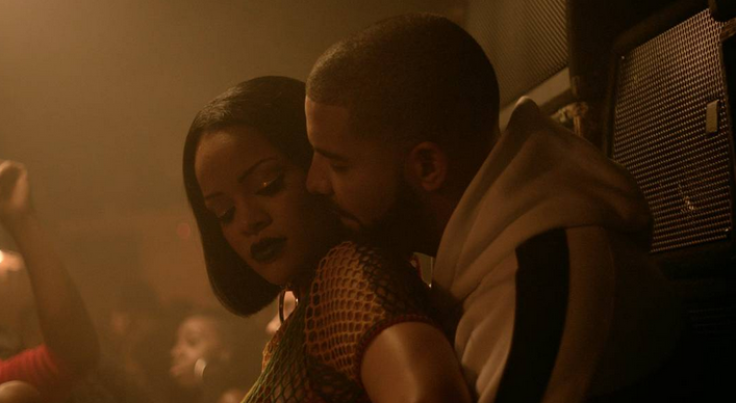 Describing how comfortable they feel with each other, Erem said: "They just jumped on. They f**king jumped on. I could never do that, but they did. Go in front of the camera, and a few minutes later, they were doing that. The second they'd turn on the camera on, it's like something different and then you turn it off, and... that's how it works. It's not like there's this sexual kind of thing. They're good at what they do. They're like the best performers out there."
Not everyone is a fan, though, as rapper Azealia Banks is said to have criticised the video, claiming it has ripped-off Beyonce's visuals for her 2003 single Baby Boy featuring Sean Paul. She is said to have tweeted: "Work video reminds me of baby boy video with Sean Paul except not as fly," but the post has now been deleted.
Work, which features on Rihanna's new album Anti, has peaked at number one on the Billboard Hot 100 chart earning the singer more chart-toppers than Michael Jackson, with 14. The first half of the video was shot by Director X.
Watch Rihanna and Drake's Work video: