Rihanna felt 'disgusted' after watching her weird sex scenes in Bates Motel season 5
Rihanna plays Marion Crane in the series inspired from Alfred Hitchcock's classic thriller Psycho.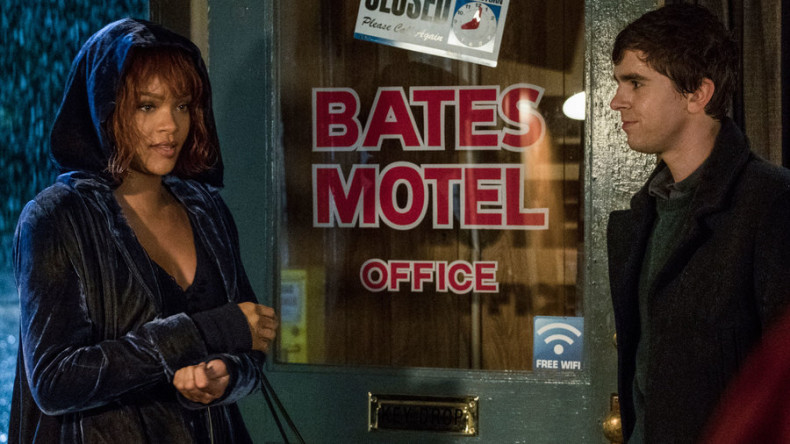 Rihanna made her debut on Bates Motel season 5 as the iconic Marion Crane from Alfred Hitchcock's classic thriller Psycho. But the songstress was not happy with her introductory sex scenewith Austin Nichols, who plays Marion's boyfriend Sam Loomis.
In a live video shared by the 29-year-old Diamond hitmaker, she appeared embarrassed while watching the intimate scene. "Eww, I can't bear the sound of that kiss, it's disgusting," RiRi said as she watched a kissing scene between Marion and Sam. "It's weirding me out."
Although she initially felt unpleasant about her much awaited debut on the show; she later started enjoying the episode along with her friends and clapped as her character reached Norman's creepy motel at the end of the episode. "It was so pleasant watching with you guys," Rihanna said as she concluded the live video.
The upcoming episode of the series will bring the highly anticipated twist to Marion's character as she checks into Bates Motel. The show's executive producer Carlton Cuse, however, teased a different approach to the classic character from the film Psycho.
"We talked to her [Rihanna] before she signed on about how we were going to make the character different than Janet Leigh's [portrayal]. And she embraced that. And that's part of the reason she signed on," he told TV Line while discussing the songstress' two-episode story arc.
Cuse also revealed that they used body doubles for Rihanna as she had some prior commitments. Praising her dedication towards the show he said: "She was unbelievable and so committed. But there were certain shots and a couple of little pieces that we couldn't physically schedule with her.
"We were very ambitious. Imagine Rihanna stepping out of her concert tour to come and shoot two episodes of our show. A lot of people put a lot of pressure on Kerry and me to minimise her story. But we decided that if she was going to be on the show we wanted to give her a real part. But we were fighting with how much work we could get done with her. And she showed up and she worked like a dog for a week."
In the 1960 film, Marion ultimately gets killed by the cross-dresser Norman in a bathtub. Fans are expecting a similar heart-wrenching moment in the upcoming episode titled Marion.
Bates Motel airs on Monday nights on A&E network.