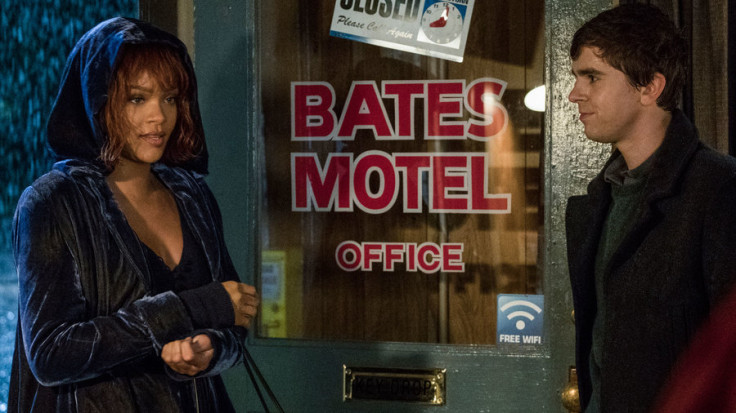 Bates Motel season 5 has successfully transitioned from a prequel series, narrating the creepy tale of mother-son duo Norma and Norman, to the film Psycho.
While the first four seasons elaborated the evolution of Freddie Highmore's character from a mentally unstable teen to an adult, the fifth season establishes him as an impersonator.
The fifth episode of the A&E thriller was important for two reasons; one - it introduced Rihanna as Marion Crane, and two – the shocking gay sex scene featuring Norman.
The Bates Motel owner has been living a dual life that of a regular young man in the public and as the Mother at home. The first episode shows that he has barred his 'Mother' from going out of the house, but it seems she has started revolting against Norman's orders.
In Dreams Die First, Norma goes to a local dive bar and had sex with her male counterpart but the catch is that it is Highmore's character dressed as his dead mother. The intimate gay scene is a complete deviation from the film.
Show's executive producer Kerry Ehrin and Carlton Cuse believes that "Norman's sexuality is all over the place," and the scene makes sense considering his cross-dressing and act as a woman. "We've always been driven by character. It really came from getting inside the head of Mother, who at the end of [last week's episode] was basically broken up with by her son.
Norman says, "This isn't really working for me" in so many words. She's devoted everything to this guy and she's pissed. So she's like, "F–k this. I'm going to go out and throw back a few." And, you know, the guy [at the bar] was cute," Ehrin told TV Line.
"She's attracted to him, and they end up in a car... It came from a really human place. Clearly, Norman's sexuality is all over the place. It's not super defined. It made sense to us that this would've happened with him — many times, probably," she added.
As of now, Norman is unable to form any physical or emotional connection with any girl as every time he tries to do so, he sees his furious mother. And every time his relationship resulted in the death of the girl he fell for, a signal that he kills them after his unsuccessful attempt to have sex.
Bates Motel season 5 airs every Monday night on A&E network.