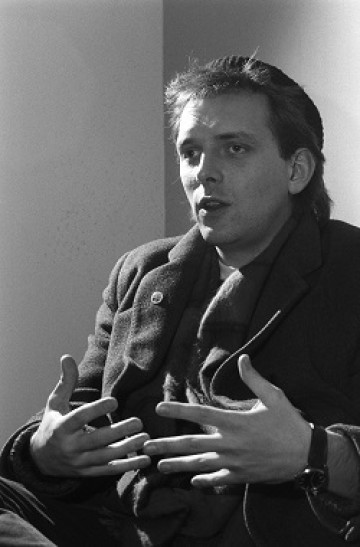 The sudden death of comedian Rik Mayall is to be investigated at a post-mortem on Thursday. (12 June)
The 56-year-old died unexpectedly at his London home on Monday, (9 June) however the cause of death has not yet been determined.
Mr Chinyere Inyama, a senior coroner for the London Borough of Richmond, has authorised a post-mortem to investigate what happened to the TV personality.
A spokeswoman for West London Coroners' Court confirmed the report saying: "The death has been referred to the West London Coroner and I understand a post-mortem examination may be carried out tomorrow."
Mayall's sudden death shocked his family and friends, and they are as yet unaware of the cause of his untimely passing.
His grieving wife Barbara has said it is possible that he may have suffered a seizure as a result of a head injury he sustained 16 years earlier, which left him on life support for five days.
The TV star took daily medication for epilepsy after a quad bike accident in 1998 left him with the condition.
She said: "Maybe he had a fit, maybe it was his heart. He had a strong heart, so I don't think it was a heart attack. But we just don't know until the coroner's report."
Close friends of The Young One's star have said that he was "happy and healthy" shortly before being found dead at his home in Barnes.
Peter Richardson, who worked with Mayall on The Comic Strip Presents, recalled his son was "happily chatting away" to Mayall just half an hour before he died.
He told the BBC Today programme: "He was happily chatting away [to my son] and then we still don't know quite what happened but it was a seizure of some sort. He had 16 years after the quad bike and I think that at the time people didn't think he would survive.
"But he lived for another 16 years and it was just shocking that he was so happy and seemed so healthy when he did go."
"He's got a very wonderful family, he was a very loving father and all I can say is that Rik had a very happy life," he added.
Just last week Mayall had been filming in Portugal for a Dutch movie, based on a novel called De Ontsnapping, or The Escape, by Heleen van Royen, in which he played a landlord.
The results are not expected to be released before Friday (13 June) when the coroner will decide whether to order an inquest.
His death is not believed to be suspicious.
Mayall married his make-up artist wife in 1985. They have three children together, Rosie, 27, Sidney, 25, and Bonnie, 18.