There will be those who argue that The Ring franchise didn't really need to be revisited. The Ring 2, itself a remake of the original Japanese horror film Ringu 2, wasn't well received despite bringing back commendable leads David Dorfman and Naomi Watts and being directed by Hideo Nakata, but it brought the events of the two films and the story full circle.
Now however, horror movies are 'scarier than ever' and every dial is amped up to 11, so Paramount Pictures figured that evil spirit Samara should be dragged up out of that well once more so that they could do just that with the well-known story. Hence, Rings was [re]born, with the film's first trailer surfacing today (24 August).
The clip sees Matilda Lutz play Julia, a young woman who becomes worried about her boyfriend when he becomes obsessed with a story surrounding a video, which is believed to have killed its previous watchers seven days after they viewed it. To stop her boyfriend from getting in over his head when it comes to the dark legend, Julia sacrifices herself but before long, she soon discovers the true horror of the tale.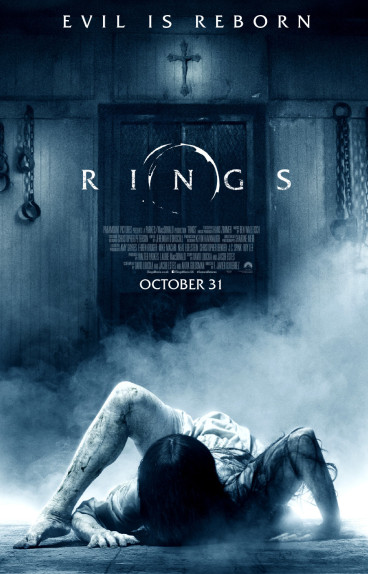 The trailer doesn't really offer up much of a fresh take compared to what we've seen in the franchise before. However, now that we're 14 years on from the first American adaptation, Samara seems to have moved on from passing her curse around via VHS and is well and truly utilising the wonders of the internet.
At the beginning of the clip, Julia can be seen stumbling across thevideo via an email, and later, passengers on a plane are forced to watch it via their individual television screens – you've got to give it to her, that spirit sure knows how to network. Also, there's something pretty cool visually about Samara slinking out of a flat screen TV this time round...
Another difference in the sequel appears to be that Samara has a lot more to do with the victim she targets than before, seemingly using Julia as a host to return to the human world. But then, that's far from certain. Either way, she looks to tag her 'chosen ones' with burn marks and etched circles in the skin... and we're assuming she'd want to remember them for a reason.
Directed by F Javier Gutiérrez and also starring American Horror Story's Lizzie Brocheré, The Big Bang Theory's Johnny Galecki and Daredevil's and Vincent D'Onofrio, Rings is scheduled to reach UK cinemas on Halloween (31 October). In the US, it will come out a few days before on 28 October.
For more entertainment news follow A-List on Twitter @Alistinsider