Dramatic video footage has captured the moment four police officers died when their helicopter crashed near a notorious slum in Rio de Janeiro on Saturday (19 November). It is thought the chopper was downed by gunfire from the City of God favela, following a day of serious clashes between security forces and local gangs. The sound of sustained gunfire can be heard on the video.
Local news outlets reported that the clash began when gangs sealed off a local road, setting light to tyres and bins to use as barricades according to the Russian state news service RT. A police vehicle sent to the scene was shot at and reinforcements, including the chopper, were called in.
One video shows the chopper falling vertically, narrowly missing housing and crashing near a road. Other footage showed the aftermath of the scene as locals gathered to find out what had happened. Later in the evening the four bodies were removed from the smoking wreckage by colleagues, who were backed up by a huge security presence.
Forensics experts are examining the wreckage to ascertain the cause of the crash, the BBC reports. A team from the Aeronautical Accidents Investigation and Prevention Center – a Brazilian Air Force unit – will also undertake tests. If confirmed, this would be the second time in recent years a police helicopter was shot down by gangs in Rio. In 2009, a chopper was brought down onto a football field, killing both pilots.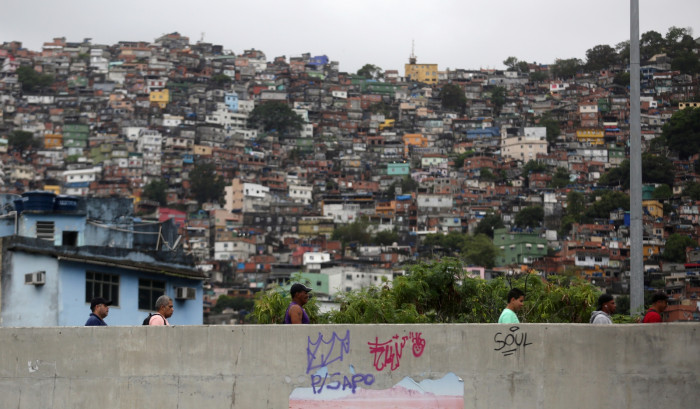 Authorities worked hard ahead of the 2014 World Cup Finals and 2016 Olympic Games to "pacify" Rio's favelas using Police Pacification Units (UPPs) but crime levels are rising again. Between 1 January and 30 September there were 3,649 murders in the city, a rise of 18% on 2015. However crime levels are still below those of the 1990s, when there were 64 murders per 100,000 people.