At least 96 people were killed and scores injured when 14 carriages of a passenger train derailed at around 3am local time on Sunday, 20 November (9.30pm GMT, Saturday) in northern India. Dozens of emergency personnel were deployed to deal with the situation as the death toll is expected to climb.
The Indore-Patna express derailed near Kanpur, the second-largest industrial town in the northern Indian state of Uttar Pradesh. Images from local television channels showed piles of mangled coaches. The cause of the accident is still not known. While 76 people were critically injured nearly 150 others sustained minor wounds, authorities said.
Most of the victims are from a single carriage, which was severely damaged. Medical teams are also at the site and the injured have been taken to nearby hospitals for treatment.
"We woke up to a great thud this morning. It was pitch dark and the noise was deafening. I am lucky to be alive and safe. But it was a near death experience for us," one of the passengers of the wrecked train told reporters.
Heavy machinery has been deployed to cut through the carriages and rescue trapped survivors. The National Disaster Response Force (NDRF) has been drafted in as part of the rescue measures.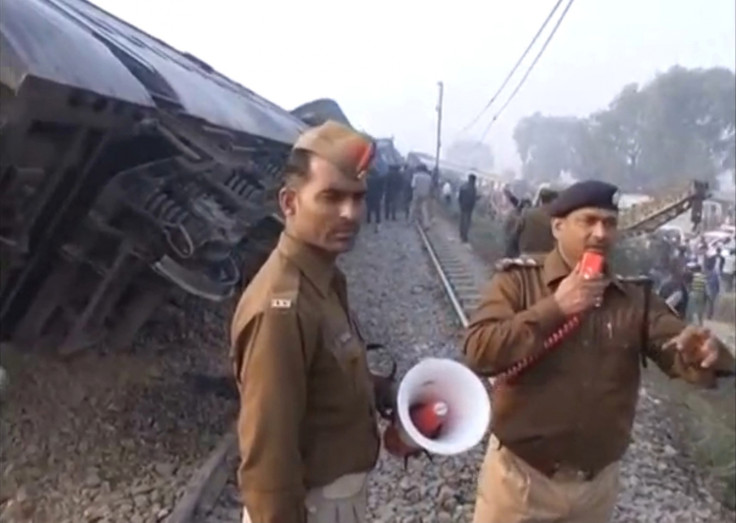 Railways Minister Suresh Prabhu said in a statement that relief measures are already underway and a probe has been initiated. "All rescue relief work is on to deal with the unfortunate accident. All medical and other help has been rushed. Enquiry has been ordered. Situation monitored closely. Medical assistance of all kinds is offered. Rail mobile medical units have been rushed to site. All injured rushed to hospitals, immediate medical help given," he said.
Trains passing on the route have been cancelled and the state government has been alerted citizens to cooperate with rescue measures. Additional buses have been deployed to ferry passengers on the route.
Meanwhile, Prime Minister Narendra Modi and Home Minister Rajnath Singh said that the government was closely monitoring the situation. The train derailed around 100kms from Kanpur, a major railway hub in northern India through which hundreds of trains pass daily.
India has one of the largest railway networks in the world and trains remain a key mode of transport for millions of people. Train accidents are not uncommon in India primarily due to poor maintenance and the absence of necessary safety measures.