Rio Olympics: Peta condemns killing of jaguar during torch ceremony
People for the Ethical Treatment of Animals (Peta) has condemned the killing of a jaguar that was presented as a mascot during the Olympic torch ceremony held in Manaus in Brazil on Monday (20 June). Strong reactions came in from other animal rights groups too following the incident.
Brittany Peet, Peta foundation director of captive animal law enforcement, warned that caged wild animals when forced to do "frightening" or "unnatural" things are like "ticking time bombs".
The jaguar, named Juma, escaped its leash soon after the Amazon torch relay concluded. Its handlers tried to bring it back and shot tranquilisers, but the jaguar did not stop and attacked a soldier following which it was shot with a bullet in the head, the army said in a statement, noting: "Juma was a docile animal used to living among people at the [zoo] centre."
The local organising committee Rio 2016 issued a statement regretting their decision to use the animal at the torch relay event. They said: "We made a mistake in permitting the Olympic torch, a symbol of peace and unity, to be exhibited alongside a chained wild animal. This image goes against our beliefs and our values." The committee assured that there will not be any such risky incidents in the future.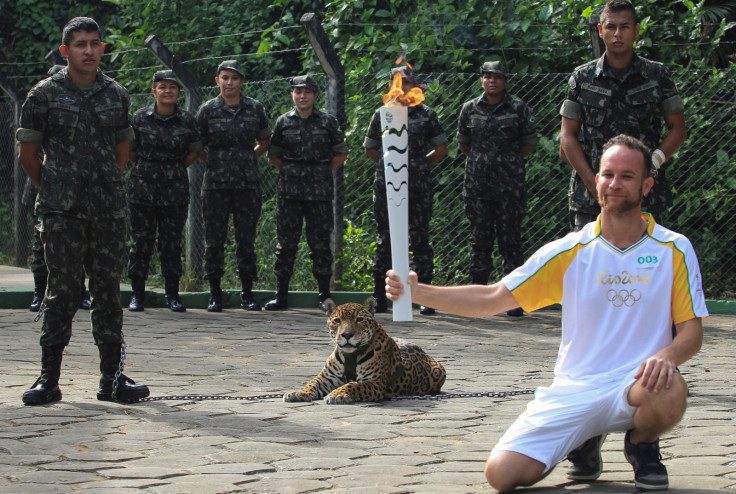 Many animal rights groups, including Peta, blasted the authorities for killing the near-threatened species. Peet said the jaguar, even in her reportedly drugged state, "knew to bolt from her life of misery the second she could, and she paid for her yearning for freedom with her life".
"When will we learn? Wild animals held captive and forced to do things that are frightening, sometimes painful, and always unnatural are ticking time bombs — our actions put them and humans at risk. Peta urges everyone who is upset by the needless death of this jaguar, the gorilla Harambe, or countless other exploited wild animals to stay far away from any business that puts living beings on display for human amusement," Peet added.
Other animal rights groups posted their reactions on social media. Brazilian animal rights group Animal Freedom Union wrote on its Facebook page: "When will people (and institutions) stop with this sick need to show power and control by confining, taming and showcasing wild animals?"
The Canadian animal law organisation took to Twitter to urge people to stop such killings.
© Copyright IBTimes 2023. All rights reserved.