Riot police arrest 77 people and fire tear gas at demonstrators over French labour reforms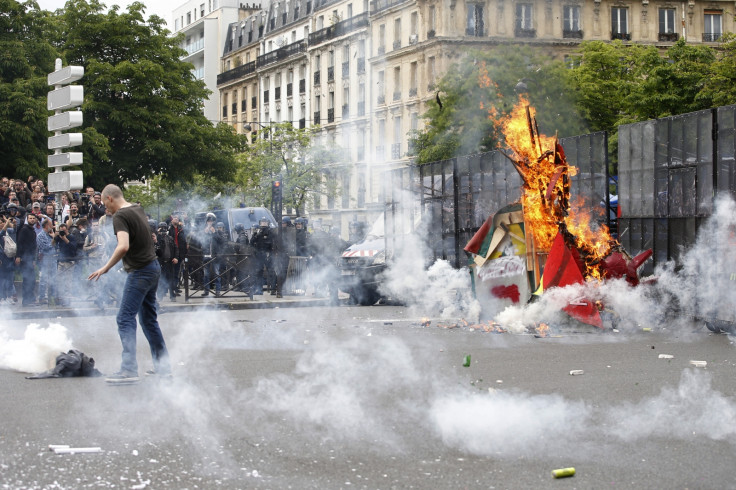 Tens of thousands of people protested across France in anger at President François Hollande's planned labour bill. Around 77 arrests were made around the country during Thursday's (26 May) protests, according to French police.
The interior ministry said more than 150,000 marched with several demonstrations turning violent, according to a Reuters report. Police fired tear-gas at around 100 people at a protest on the outskirts of Paris. In Bordeaux, 100 people targeted a police station, throwing rocks and damaging a police car. In the western city of Nantes, bank windows were broken and protesters fought with police, who then fired tear gas at the crowd.
Protesters interrupted a TV programme with French labour minister, Myriam El Khomri, to call for the labour laws to be scrapped. El Khomri remained adamant that she would not revise its most controversial article. However the finance minister, Michel Sapin, has suggested the most contested part of the legislation could be rewritten – a clause that gives individual companies more of a free hand in setting working conditions.
Unions want the French reform bill scrapped, which gives employers greater freedom to reduce pay and lay workers off. "It's inadmissible," Arnaud Pacot of the CGT union in the Aube region of eastern France, told BFM TV from the site of a nuclear plant being blocked by activists.
The government pushed the bill through the lower house of parliament, with the final vote expected in July. The next large-scale planned day of protests is on 14 June, four days after the Euro 2016 football tournament opens in France. The CGT warned it could be disrupted if the government refuses to withdraw the draft reform bill.
"The government has the time to say 'let's stop the clock' and everything will be OK," CGT chief Philippe Martinez told Reuters.
"We will disrupt the Euro (tournament) and the government will be the one to blame," said Naima, a 33-year-old sales worker and CGT member.
Half of France's 10,000 petrol stations have either partially or completely run out of fuel, according to the Telegraph. On Thursday morning (26 May) there were reports that around 4,655 out of the 12,000 petrol stations in the country were running very low on fuel reserves or had run out completely.
Meanwhile, in Paris, workers from the CGT union blocked fuel supplies and parts of the country's public transport network, and cut output from all but three of its 19 nuclear power plants. Another union, the SUD, has called for a strike on Paris' public transport to start on 10 June – the first day of the Euro 2016 football tournament, which could cause travel chaos in the French capital.
© Copyright IBTimes 2023. All rights reserved.