Riot police in the western city of Lviv have apologised on their knees to residents for their role in the bloody crackdown against anti-government protesters in Kiev.
Although the law enforcement officers insisted they were not violent, the move has a huge symbolic meaning for a city that became the heart of the revolutionary movement.
Close to the border with Poland, Lviv not only sustained EuroMaidan with thousands of people travelling to Kiev to defend it, but also declared independence from the central government in the deadly protests of 19 February.
Many returned to Lviv in coffins and a ceremony took place to honour the heroes.
Lviv - formerly Soviet Lvov, Polish Lwow and Autro-Hungarian Lemberg in the past century – is a city of 760,000 that has spiritually always belonged to Europe.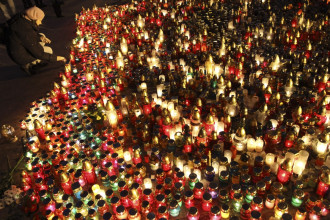 Its architecture is typical of the Austrian-Hungarian empire and it sided with pro-Western activists both during the 2004 Orange Revolution and the current demonstrations.
As the pro-EU protests turned into a popular revolution, the Western city of Lviv started to slip from the government's control.
Traditionally hostile to Yanukovich, Lviv activists soon kicked out the governor, seized the prosecutor's office and sacked several police stations.
A large banner appeared in the classical 19<sup>th City Hall reading: "Vilne Mesto Vilnikh Liudei" (Free City of Free People).
The mayor of the city, Andrei Sadovyi, asserted its authority and 2,000 men including plain-clothed officers began patrolling the streets to bring order, helped by members of the nationalist block Right Sector.
The civil defence units created demonstrate a sense of self-discipline and autonomy, but in an interview with The Economist, Sadovyi has dismissed rumours of separatism saying that they want Ukraine "to stay as one country".