In the last year, female jihadis have dominated the news. Sally Jones, British, a punk rocker who converted to radical Islam, has risen in the US 'kill list'. The Pentagon wants to eliminate this 48 year mother of two. Her husband, Junaid Hussain was killed in a drone strike in 2015. Extrajudicial killings are abhorrent and we should be wary of US/UK propagandists. However, Jones has called on Muslims to create havoc in European countries by terrorising people. She has been known to use her children as human shields. Her husband filmed himself torturing and beheading people. Such people find their God through blood sacrifices.
At the end of April, three teenage girls were arrested in London, suspected of actively planning a terror attack. In Willesden, a 21-year-old women was shot when anti-terror police raided a house. Six other people were arrested, and we will know more after they are tried.
In autumn 2016, French police foiled a planned attack on Notre Dam Cathedral and other public sites. They arrested Ornella G whose finger prints were found in a car carrying gas cylinders and other dangerous substances. She was part of a female 'terrorist commando' and has been charged with association with a terrorist group and attempted murder by an organised group. The others allegedly involved were Ines Madani who tried to stab arresting officers and Sarah H who did knife a plain-clothes officer. She was apparently engaged to two men who have murdered in the name of Allah. A 38 year old mother and her young teenage daughter are also suspected of being involved.
In 2015, three school girls from Bethnal Green, Shamima Begum, 15, Kadiza Sultana, 16, and Amira Aabse, 15 went off to Syria to become 'jihadi brides'. They took epilators, pretty knickers and body lotions. Aqsa Mahmood, educated in private school and a university student, born and raised in Glasgow, had become an Isis bride herself. She was the suspected groomer who used social media to lure the East End girls. One is now presumed dead.
Islamicism absolutely control and brutally abuse females. And yet they still flock over, as if they are craving punishment. Or enslavement. A new book on Bin Laden by Catherine Scott-Clark and Adrian Levy describes the lives of his four wives. One, Khairiah, was a child psychologist. He rendered them invisible, made them have many babies, and married off his young teen daughters. They did not protest. Only the eldest, Najwa, mother of eleven children, finally left him.
Taking the long view, there were also female guerrilla fighters – in Cuba, Vietnam, Sri Lanka and other conflict zones. The unending Palestinian struggle has produced female fighters. Leila Khaled, for example, a member of the Popular Front for the Liberation of Palestine, hijacked four planes in the stormy late sixties. In her last attempt in 1970, the plane was forced to land in Heathrow. Khaled was holding two hand grenades. She was held in Ealing police station, five minutes away from where I live. They sent her back. Khaled is still alive and involved in the struggle for a Palestinian state. Haganah was the Zionist militant armed organisation active in the British Mandate of Palestine until the late early forties. Twenty percent of their fighters were women.
Such females were driven – rightly or wrongly – by burning political passions. They followed some rules of war. They were not totally indoctrinated.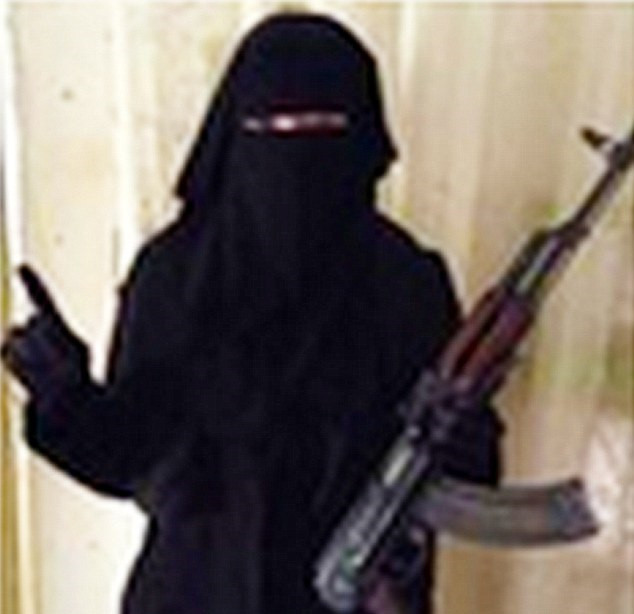 Female jihadis are a 21<sup>st-century phenomenon. 17% of Westerners in Isis-held territories are now female. I am asked over and over again, 'Why do they do it?' Sigh. I don't know. It is a consuming mystery, a whyshedunnit.
We can only speculate. According to researchers the University of Miami, women are the 'glue, holding the organisation together'. Many recruits are groomed. However, intelligent, educated Muslim females are also joining the cult. Professor Beverley Milton-Edwards, visiting fellow at the Brookings Doha Centre, says some passively follow instructions, but many experience 'insurgent urgings', make independent choices believing the caliphate empowers them to live as true Muslims.
I have met strident, purist Muslim women (again a new breed) who justify violent jihadism. They hate non-Muslims, Muslims like me, liberal, democratic, questioning and free. And then there is sex, natural desires tied down by fear, guilt, shame. Shazia Mirza, the Muslim comedienne, says young Muslim females in conservative families are seduced by 'hairy, fit, gun toting, macho' Isis blokes they see on the internet. She is not joking.
Finally, geopolitics comes into play. Millions of Muslims are ashamed of their failed home states. They long for Islam's glory eras. They hate being hated migrants. They also, understandably, hate the West's power games. Women who feel this failure, now think it is their duty to save their faith. Religious intensity mixed with frustration is a hallucinatory brew.
The really bad news is that violent female Islamism is only just getting started. And we have a US president who thinks a shoot to kill policy will sort it. It won't. The age of terror will not end any time soon.
---
Yasmin Alibhai-Brown is a journalist, columnist, broadcaster and author. Her most recent book is Exotic England, on how the East has enticed Englanders. She has appeared on Question Time, Newsnight, BBC News, and has been described by the Telegraph as one of the most powerful Asians in the UK. Follow @y_alibhai
---