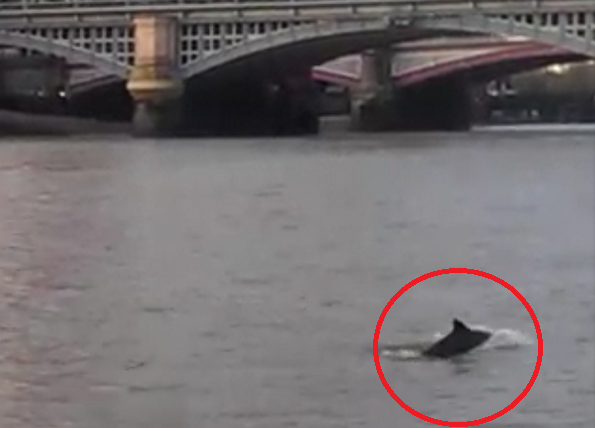 Could this porpoise jumping from the River Thames in London be checking to find out where it is? It looks like it may have gone off course somewhere.
The animal was captured on video near Blackfriars Bridge in central London by officers on board a Metropolitan Police river launch who were responding to calls that a small pod of porpoises had been seen making its way upriver.
Police said the pictured animal was a harbour porpoise, the smallest species of porpoise. They tend to be found in river estuaries.
One theory is that the storm surge that swept down the east coast of Britain overnight had pushed the dolphion, or dolphins, far up the Thames.
By popping up unexpectedly in the heart of the capital, the porpoise was following in the fins of the River Thames whale, a young bottlenose that was spotted in 2006 after it got through the Thames Barrier and swam as far upriver as Battersea. Sadly, it did not survive its encounter with London water.
READ:
'Worst Tidal Surge in 60 Years' Feared as Great Yarmouth Evacuates [SURGE MAP]
UK Storm Surge Threat Recalls Britain's Worst 20th Century Natural Disaster
Scotland Weather Warning: Lorry Driver Killed in 140mph Winds
UK Weather Warning: 140mph Winds Cause Travel Chaos Across Scotland
UK Weather Warnings: Gale Force Winds and Flooding Expected in 'Worst Weather for Decades'