Thousands of people have been told to prepare for more flooding as the worst tidal surge for decades looks set to continue on coastal towns.
The Environment Agency has issued more than 25 severe flood warnings - meaning there is the potential for loss of life - across eastern England and the Midlands as further tides are expected.
Thousands of people were evacuated from their homes last night (Thursday 5 December) as sea levels rose higher than during the devastating floods which hit the east coast in 1953.
Humberside Fire and Rescue serice said they dealt with 186 flood incidents which lead to the rescue of 181 people. In Suffolk, 27 people had to be rescued from their homes as the fire service attended 18 flood and fire related incidents. Lifeboats were also used to carry people to safety from flooded properties in Rhyl, Denbighshire.
Thousands of people were also evacuated from their homes in Great Yarmouth, with further tides expected to hit the area this morning.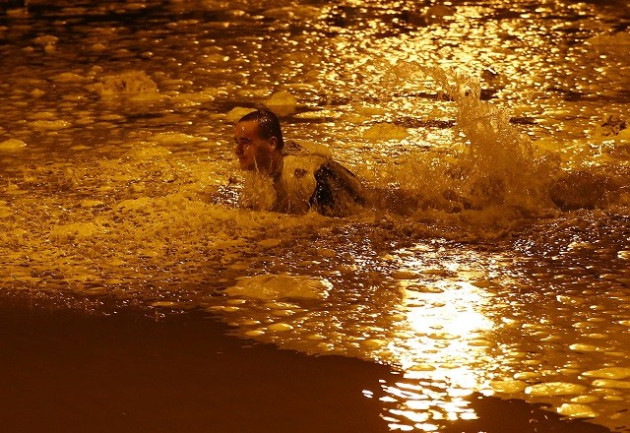 The storm preceeding the surge left two people dead, as one man died after he was struck by a falling tree in Retford and a lorry driver was killed when his vehicle was blown onto a number of cars in West Lothian.
An Environment Agency spokesperson said: "Strong to gale force winds with large waves are expected on the east coast of England today (Friday). These will combine with high tides and a large tidal surge in many areas.
"There is a high likelihood of severe coastal flooding impacts along parts of the North Yorkshire, East Riding of Yorkshire, Lincolnshire, Norfolk, Suffolk, Essex and parts of the Kent coastline.
"Impacts are likely to include danger to life, flooding affecting a significant number of properties and large scale evacuations.
"Typical impacts may include flooding of properties and parts of communities, significant travel disruption, coastal erosion, local overtopping of flood defences.
"The storm yesterday may have caused damage to flood defences along parts of the North Wales coastline so the flood risk has been extended into today."
Environment Secretary Owen Paterson also warned that the danger is not over.
He said: "There will still be exceptionally high tides today and tomorrow and I would ask everybody to pay very close attention to advice from the Environment Agency and also to follow instructions from the police, local government and the emergency services."
Charlie Hall, deputy chief constable of Norfolk Police, confirmed that in places the waters exceeded the levels seen in 1953.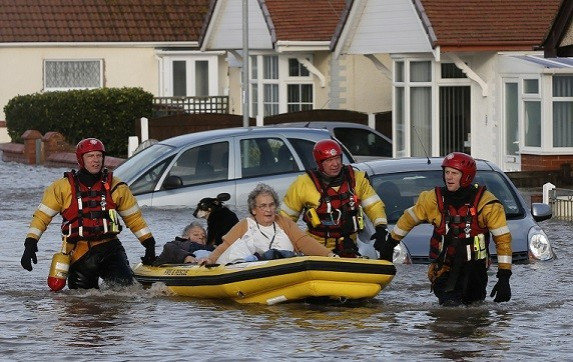 He said: "This has been a serious incident which could have been far worse had it not been for the support and cooperation of the public and all the agencies working to keep people safe."
Northumbria Police that the tidal surge was not as bad as expected, but warned people to still take care this evening
A spokesman said: "People are reminded that there will be a second high tide this evening and, although not anticipated to cause problems, there is still the potential for flooding."
The Thames Barrier will close for a second time today to protect London from the high tide.
In Scotland, which was hit by winds of up to 142mph in places, The Enviroment Agency has removed all major flood warnings, with areas such as Aberdeenshire, Edinburgh and the Lothian, Fife and the borders told to be on 'amber alert' as flooding is still possible.
Read:
'Worst Tidal Surge in 60 Years' Feared as Great Yarmouth Evacuates [SURGE MAP]
UK Storm Surge Threat Recalls Britain's Worst 20th Century Natural Disaster
Scotland Weather Warning: Lorry Driver Killed in 140mph Winds
UK Weather Warning: 140mph Winds Cause Travel Chaos Across Scotland
UK Weather Warnings: Gale Force Winds and Flooding Expected in 'Worst Weather for Decades'