Rizana Nafeek Beheaded: 50 Foreign Maids Condemned to Death by 'Cruel' Saudi Justice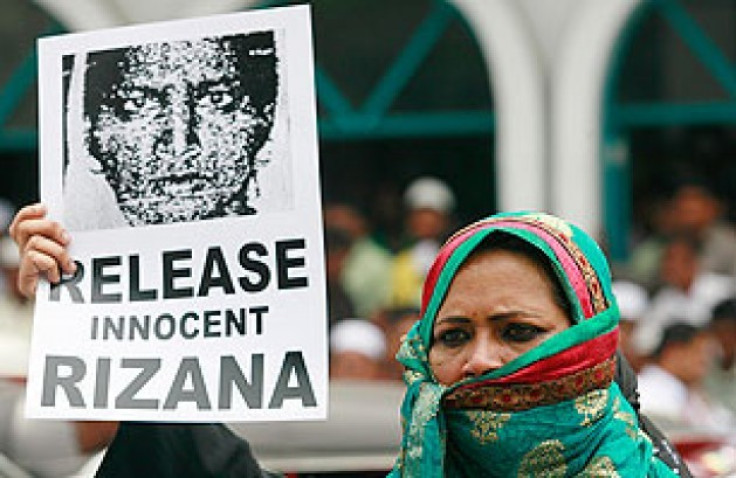 Around 50 foreign maids are being held on death row in Saudi Arabia, and there is growing alarm at the kingdom's treatment of its foreign workforce.
The issue has captured international attention in the wake of growing revulsion at the beheading of Sri Lankan domestic worker Rizana Nafeek.
Nafeek, whose age is disputed, was given the death penalty for killing a Saudi baby in her care in 2005. She denied the charge.
Saudi prosecutors alleged she had smothered a four-year-old boy after an argument with his mother. Nafeek maintained the baby choked to death.
Though her passport gave her date of birth as February 1982, her birth certificate said she was born six years later, making her only 17 at the time of the child's death. This would mean her beheading violated international law, which forbids the execution of those under 18 at the time of the alleged crime.
Nafeek was sentenced to death in 2007 by a village court that denied her legal assistance and did not allow her to present her birth certificate in evidence. However, a confession she had signed during interrogation was allowed to stand, though Nafeek had retracted it, saying it had been obtained under duress.
'Callous disregard for basic humanity'
Appeals for clemency from Sri Lankan president Mahinda Rajapaksa and governments around the world were rejected by the Saudis.
Britain said it deplored the killing, which it termed "cruel and inhuman". UN Secretary-Genral Ban Ki-moon also expressed his dismay, voicing concern at "irregularities" in her detention and trial, and at the "increased use of capital punishment in Saudi Arabia".
Alistair Burt, Foreign Office minister for the Middle East, said: "I condemn the execution of Rizana Nafeek in Saudi Arabia yesterday, despite the many appeals for her sentence to be commuted.
"The UK opposes all use of the death penalty as a matter of principle, whatever the crime committed. The beheading of Ms Nafeek is particularly concerning as reports suggest she may have been a child of 17 at the time the crime was committed.
"We also find the practice of beheading to be particularly cruel and inhuman. We continue to raise our concerns about human rights with the Saudi authorities, including its frequent use of the death penalty."
Amnesty International had also made a clemency plea to Saudi Arabia's King Abdullah. Amnesty's Middle East and North Africa programme director, Philip Luther, later termed the decision "outrageous".
"It appears that she was herself a child at the time and there are real concerns about the fairness of her trial," Luther added.
The execution has refocused the spotlight on to the increase in cases of abuse of migrant workers, which is a disturbing phenomenon In Saudi Arabia and across the Gulf, where women in often wealthy households are confined to the family home for much of their lives, with complete authority over foreign staff, who are seldom literate and paid little. Maids often have their passports confiscated by their employers, and are treated as indentured labour.
Nisha Varia, the senior women's rights researcher at Human Rights Watch, said Saudi Arabia was in flagrant breach of its legal obligations.
"In executing Rizana Nafeek, Saudi authorities demonstrated callous disregard for basic humanity as well as Saudi Arabia's international legal obligations," she said.
The exact number of maids on death row could be higher, but Saudi authorities do not publish official figures.
Indonesians are believed to account for the majority of those facing the death penalty, with 45 Indonesian women being held on death row, according to human rights groups.
Sri Lankan, Filipina, Indian and Ethiopian maids are also among those being held on death row.
About 1.5 million foreign maids work in Saudi Arabia, including about 375,000 Sri Lankans, attracted by higher salaries in the oil-rich state. However, workers have few, if any rights once they arrive, and can find themselves at the mercy of their employers.
An estimated 52.6 million domestic workers around the world lack legal rights and protections, according to a report by the International Labour Organisation.
But in Saudi Arabia, legal protections are weaker and access to justice more remote, said Varia.
"The Saudi justice system is characterised by arbitrary arrests, unfair trials and harsh punishments," she said. "Migrants are at high risk of being victims of spurious charges.
"A domestic worker facing abuse or exploitation from her employer might run away and then be accused of theft. Employers may accuse domestic workers, especially those from Indonesia, of witchcraft.
"Victims of rape and sexual assault are at risk of being accused of adultery and fornication."
Migrants can be denied access to lawyers and translators, and consular access is routinely blocked.
Others on death row in Saudi Arabia include Satinah binti Jumadi Ahmad, Tuti Tursilawati binti Warjuki, Darmawati binti Taryani, Siti Aminah and Siti Zaenab.
Ahmad, 40, an Indonesian employed as a maid in the kingdom, was sentenced to death after she was an convicted of murdering her employer during an argument.
Blood Money
Anis Hidayah, executive director of Indonesian rights group Migrant Care, said the victim's family has demanded £1.6m in blood money to avert Ahmad's death, a common practice in the Saudi justice system.
The Indonesian government has said it is prepared to make a payment, but has reportedly offered a lower sum. Indonesia imposed a moratorium on sending migrant workers to Saudi Arabia after an Indonesian maid was beheaded in 2011.
Tursilawati, 27, claims she killed her employer when he tried to rape her in 2010 after months of sexual abuse. Zaenab was also convicted of killing her employer, while Aminah and Taryani were sentenced to death for the murder of another migrant worker.
Saudi Arabia executed at least 69 people in 2012, says Human Rights Watch. The previous year it executed at least 79, including five women, according to Amnesty. One woman was beheaded for witchcraft and sorcery. More than 120 people - mostly foreign nationals - are on death row in Saudi Arabia, Amnesty said.
Amnesty has said it is alarmed at the "disproportionate" number of migrant workers in Saudi Arabia being executed.
"As with Rizana Nafeek, nearly all migrant workers in Saudi Arabia are at great risk if they end up in the criminal justice system," Amnesty's Saudi Arabia researcher, Dina el-Mamoun, told the Observer.
"In many cases, they're subjected to whole trials where they can't understand the proceedings, which are conducted solely in Arabic and without translation. They are often not given access to lawyers or to consular assistance."
She said poor workers from the Indian subcontinent, south-east Asia and Africa should be warned by their governments of the risks they ran in agreeing to work in the country. "All countries should be advising their residents who might be thinking of working in Saudi Arabia of the risks of mistreatment in detention, of an unfair trial and even of execution," she said. "The risks are very real and could be deadly."
Rizana Nafeek was taken out of her prison cell in Dawadmi town, 200 km from Riyadh, on Wednesday 9 January. Dressed in white robes, blindfolded and handcuffed, she was led out by prison officers and forced to her knees as an Islamic prayer was recited. She was beheaded in a public place before hundreds of onlookers, Saudi authorities confirmed.
© Copyright IBTimes 2023. All rights reserved.