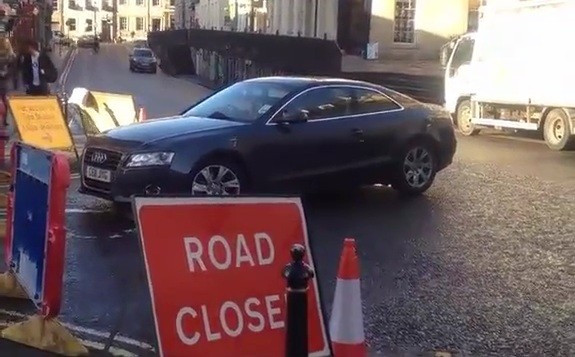 This week theYouTube video, Road Rage in Bath, went viral after exposing shop owner Sarah Duncan unleashing a tirade of invective against a man who dared to challenge how she had parked her top-of-the-range Audi.
Set in one of England's most prosperous and genteel cities, Road Rage in Bath reveals a deeply unpleasant side to Sarah Duncan. She may run a knitwear shop but she is definetly not a warm and cuddly person.
The encounter began when Duncan felt it within her rights to park her high-powered car horizontally across one of Bath's busy roads - effectively blocking one of the lanes and causing traffic to pile up.
The anonymous cameraman challenged her parking arrogance and quickly felt both barrels of Duncan's verbal aggression.
She asks him to hand over his phone and demands to know why he is recording her.
"Who the f**k do you think you are, filming me? I'm trying to get to my place of work, how dare you, you fat little lump," she said.
The video continues for seven minutes until the knitwear shop owner threatens to lie to the police and say the cameraman had assaulted her - forgetting momentarily that she was being filmed. Her foul language and inappropriate behaviour has led to an onslaught of hate-filled phone calls to her shop.
For many Sarah Duncan has became the pin-up girl for the unacceptable face of England's middle class.
For all its pretensions the middle class has a long track record of being obnoxious - with our own prime minister leading the well-spoken yob mob.
He along with his chums, Chancellor of the Exchequer George Osborne and Mayor of London Boris Johnson, were leading members of Oxford University's boisterious Bullingdon Club, infamous for dressing like 18th-century dandies to wreak drunken havoc and smash up restaurants - before flinging loads of cash at any problem they created to make it go away.
Indeed, proving that hooligan-type behavour is no barrier to running the country, students from the prestigious London School of Economics hit the headlines for playing the apres-piste Nazi-themed drinking game called "Nazi Ring of Fire," while on a skiing trip to the French Alps. The game apparently involved spreading playing cards into the shape of a swastika with players forced to "salute to the Fuhrer". A fellow Jewish student who had the temerity to object to the jolly jape was punched in the face and had his nose broken.
This followed on from reports that four Oxford University students had to resign from the university's Conservative Association after accusing other members of anti-semitic behaviour. According to those who are leaving, members sang a Nazi-themed song about "dashing through the Reich" and "killing lots of kike".
Youthful hi-jinx or the start of a lifetime of being deeply unpleasant? When they grow up and join the property-owning democracy do they not revert to a well-behaved, law-abiding type? Do they heck!
The suburbs of England seeth with acrimony and aggression. Abuse flung over the privet hedges is often peppered with the sort of Anglo-Saxon epithets that would make a chav blush.
Minor disputes over lleylandii, garden gnomes, parking spaces and the routes of fences frequently explode into ugly and violent confrontations, fuelled by a a sense of self-righteousness, smugness, and pomposity, providing the Daily Mail with an inexhaustible supply of fodder for its inside pages.
All over England, so-called respectable types are losing their rag and behaving badly. Take Geoffrey Butler, a 54-year-old maths teacher from Rochester, Kent, who mirrored Basil Fawlty in a four-year campaign of xenophobia toward his German neighbours. The "don't mention the war" moments landed Butler in court for victimising his neighbours, playing Vera Lynn records and broadcasting Churchill speeches at their house. The situation escalated following a dispute over six feet of land between the two houses.
Indeed, this week Christopher Perry, 65 from Wetwang, East Yorkshire, a former city councillor and civil servant was, after a series of tirades on his blog that included dubbing the local Methodist minister a "wheeler dealer" and a former mayor an SS Obergruppenfuher, garnered with the ultimate yobbo accesory - an Asbo - living proof of how to grow old disgracefully.
Meanwhile, the middle class might like to believe it is the font of respectibility but peel back the veneer and what is revealed is a class that often isn't very classy.